Happy Chinese New Year!  This is our first time experiencing Chinese New Year and it has been quite an interesting look into the biggest celebration in China.  Think Christmas, New Year and Easter all wrapped into one and that about sums up the importance of this holiday to the Chinese.  
The Chinese New Year is based on the lunar calendar and not the Gregorian calendar used by western countries.  This year, Chinese New Year began on January 31 and will continue for 15 days.    
Preparations for Chinese New Year begin weeks before.  People adorn their homes and businesses with bright colored decorations (especially the color red) because bright colors chase away evil spirits. 
Bright-colored flowers and kumquat trees are purchased for good luck.
Three days prior to Chinese New Year, tradition requires that everything be thoroughly cleaned.  It's considered bad luck to begin the new year with "old dirt." Restaurants and other businesses pull everything out of their shops and meticulously sanitize from floor to ceiling.  People paint and freshen up their homes.  If something is not in proper working condition, it is either repaired or replaced.  For me personally, this was my favorite tradition and I especially appreciated seeing the restaurants undergoing a thorough decontamination.  Once everything is spic and span, cleaning cannot commence again until after Day 1.  Otherwise, you could wash away all the good luck that you worked so diligently to generate through your cleaning on the days prior.
Young children dress in traditional Chinese garb.
The dragons come out to scare off evil spirits and bless the businesses and homes around town.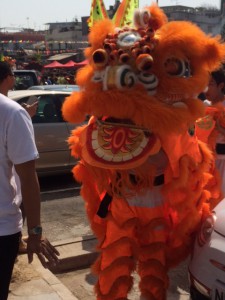 Of course, a good Chinese celebration would never be complete without a spectacular fireworks display and I'd expect no less from the inventors of the pyrotechnics. 
In all, the show lasted 26 minutes and did not disappoint.  We had some of our own good fortune and were able to enjoy the display away from the crowds and up on the 30th floor of a hotel right on Victoria Harbor.  The "good fortune" was courtesy of all the hotel reward points we generated after living in a hotel for month!   
 So, when you're finally sick of all of the traditional food and too much up-close and personal time with family, where does one go in China to get a bite to eat when EVERYTHING is closed?
That's right…Pizza Hut!  Note the line out the door. 
It seems a lot of you are just as amused as I am about the dog adoration that goes on over here, so I've decided to drop in dog of the day ("DOD") shots as I come across some photo-worthy pooches.
I saved this pic for last.  I took it right as I was getting off the MTR.
Wait. For. It.
Note that he is wearing a traditional Chinese top.  There were quite a few people taking photos of him so his human was telling him to "wait" and then "smile" and that's when he stuck out his tongue.
Priceless.