Guest post by Webley Woods
The first day we were in Vietnam we went on a "back of the bike" food tour to 5 street food places, while riding on a moped. A moped is like a motorcycle.
First we had goi du du bo which is green papaya salad. It tasted just like cole slaw.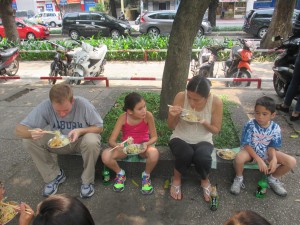 Next we had banh khot which is coconut rice cakes topped with shrimp or pork.
Next we had bun thit nuong. This was our favorite. It was grilled chicken with noodles.
We had fried spring rolls, too.
The last food that we had was bun bo hue which was pho or meat with noodles.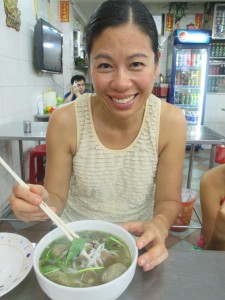 Dessert was a lot of ice cream with different fruit toppings.
Over all I thought it was really fun. I know Aaron had fun because on the moped by the end he was able to steer or do the gas.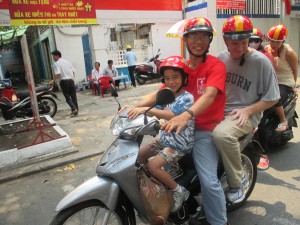 By the time we were back at the hotel I was stuffed to the max though.
Another place we visited was the Cu Chi Tunnels. The Cu Chi tunnels are a whole underground village made by the Vietnamese during the French War. They continued construction of the tunnels during what they call the American War.
They slept, ate and even schooled and performed plays in the tunnels! They could stay down there for the maximum time of one month. When we finally got in the tunnels, Dad was on his hands and knees and those were widened for tourism, so imagine how small they really were!
The tunnels were also used  for transporting troops and supplies to the battle grounds. The tunnels had three levels and included sleeping quarters, meeting rooms, hospitals, and much more.
Here are some pictures of us there:
Aaron and I are in a crater that was left by a bomb dropped by a B-52 U.S. bomber.
On the last day Mom and I went to a cooking class. We made spring rolls,
green mango salad,
and then fried rice.
The class was really fun and the food was pretty good (even for my picky taste). Here are some pictures of us at the class:
It was a great trip!