On day 2 of our hike of the Great Wall, we all woke up the next morning tired and very sore from the day before. We pressed on nonetheless and began our hike from Jinshanling to Simatai West. The weather on that day was even more brilliant than the day before.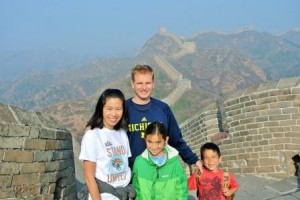 There aren't enough adjectives to describe the views we had throughout the day.
Someone once told me that seeing the Great Wall was one of the most under-whelming experiences of this person's life. I whole-heartedly disagree. Maybe this person visited a part of the Wall loaded with tourists and trinket peddlers, but that was NOT our experience.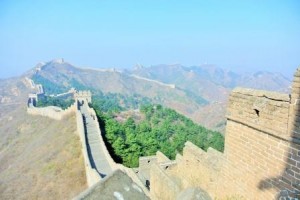 With every step, I felt myself praising the Lord for the opportunity to see and enjoy His creation and I was simply in awe of the tremendous human effort it took to build the Great Wall.
I was also struck by the extreme fear, anxiety and insecurity that the ancient Chinese must have felt to drive them to erect such a massive fortification.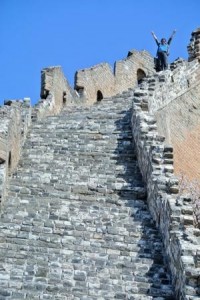 I suppose those Mongols and Huns must have been fearsome brutes.
This is where our hike ended.
But we still had to walk down some 1,300 steps to get to the bottom where our van was waiting for us to take us back to Beijing.
My sister, Gay, was so excited to be finished that she decided to memorialize her receipt of her official certificate of completion.
Afterwards, we enjoyed a lunch of hotpot.
And then had a Chinese massage.  If any of you have ever experienced a Chinese massage, you know that our muscles were more sore when we left than when we arrived.  The Chinese believe one should lean into the pain.  I have to disagree with that point of view.