It's been awhile since our last post.  Sorry about that.  We've been trying to get back into the swing of things with homeschooling and I've had a small case of writer's block/laziness.  It's soul-destroyingly hot in Hong Kong and I'm just trying to get through each day without melting into a puddle on the ground.  Yes, I know I've lived most of my life in Florida and what, you ask, could possibly be hotter and more humid than Florida in August?  Trust me.  I now know it's possible for a place to be hotter and more humid than my former home and it is now my current home.  The good news is that there is a typhoon bearing down on us, so that should cool things down at least a few degrees.  The bad news is, well, there's a typhoon bearing down on us.
So I no longer can blame the lack of material for my failure to post.  We just returned from a week-long trip to Bangkok, Thailand.  It was a wonderful trip despite that it was also hideously hot there, even more so than here (again, yes, it is possible).
I have to say that, so far, Bangkok is one of my favorite cities that we've visited in Asia.  To me, it was like a nice blend of Ho Chi Minh City and Hong Kong.  You had the big, modern city without the breathtakingly high prices.  Everything is so cheap, which in itself is really nice.  But, probably the loveliest thing about Bangkok is the people.  They were all so kind, helpful and friendly.  I loved them to bits.
Since we are a homeschooling family, a portion of all our trips are required to be educational (much to the chagrin of Webley and Aaron).  So, we spent part of the time learning about the history of Bangkok.  What I find interesting about Thailand is that it was never colonized like so many other Asian countries.  Thailand had a long succession of able rulers who exploited the rivalry between French Indochine and Great Britain.  Thus, the two powers intentionally left the country un-colonized so it could serve as a buffer state between their colonies.
Other than the war between Thailand and Burma in the mid-1700's, the country has lived, for the most part, in peace.  While I highly respect and admire this about its people, I found it made for a rather brief and unexciting homeschool history lesson.  With no invasions, wars or conflicts to discuss, there just wasn't much to say except that it's a beautiful city with gorgeous temples and delightful people.
During the first couple of days of our visit, we dutifully toured the temples and learned as much as we could about the history and culture from our tour guide.  One thing about Bangkok is there are A LOT of temples
and Buddhas.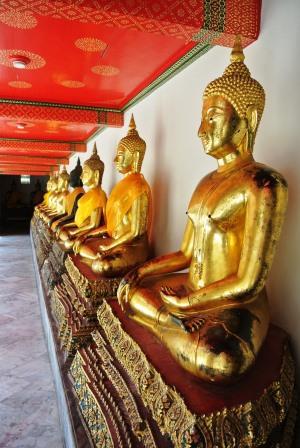 For the Thai, the day of the week on which a person is born carries great significance.  Each day of the week is represented by a color and a Buddha pose.  Webley was born on a Tuesday.  The color for Tuesday is pink and the Buddha pose is reclining Buddha.  The one we saw was the 4th largest in Thailand.  Notice the pink flowers in front of it.
This is the angle from his toes.
Aaron was born on a Friday.  The color for that day is blue and the Buddha pose is contemplating Buddha:

We took a trip outside of Bangkok to the former capital, Ayutthaya.  Located nearby is the summer palace of the royal family.  Webley gives us the run down of this tour.
When the Summer Palace was first built (no one knows the exact date), the king used it as his summer retreat because the location was cool in the summer and it was very easy access by boat. It was used from 1350-1967. In 1767 the Summer Palace was abandoned because the Burmese were invading Thailand. Fifty years later Rama the Fourth came with his son Rama the Fifth. He liked it so much that he decided to make it his summer home. He restored it, and since then it has been restored many times. Today, it still remains the Summer Palace for the king.
This is the king's watch tower.  He uses it to keep an eye on flooding.
King Rama the Fourth was the King of Siam in the book "Anna and the King of Siam" by Margaret Landon.  That book inspired the Broadway musical and the movie "The King and I."  King Rama the Fourth was highly influenced by western culture and this can be seen in some of the architecture at the Summer Palace.  You can see the combination of western colonial and traditional Thai architecture in the buildings behind us and the bridge below.
Next, we went to Wat Yai Chimogkol (the word "wat" means temple in Thai).
The temple was built about 600 years ago as a celebration of victory over the Burmese. At this temple, there are 163 Buddhas.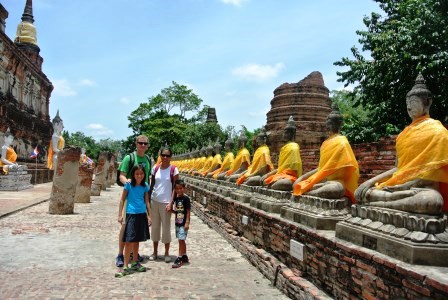 The temple was used to keep charms and treasures of Buddha. The building where the charms and treasures are kept is called a stupa. The stupa is round and bell-shaped.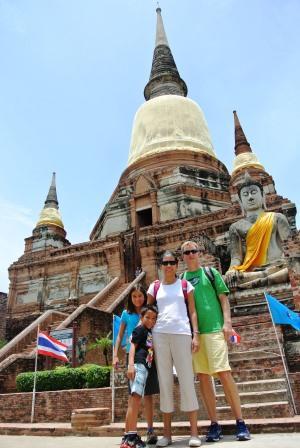 After that, we went to Wat Mahathat or "The Buddha in the Tree."
At this temple there are many different kinds of stupas. The Cambodian style looks like a cake that has tiers.
The Thai/Sri Lankan looks like a skinny cone that has rings on it.
At this temple there aren't many heads on the Buddhas because people took them off to sell them.
One person left a head under a bush and forgot about it. That bush is now a tree with a Buddha head stuck in its roots.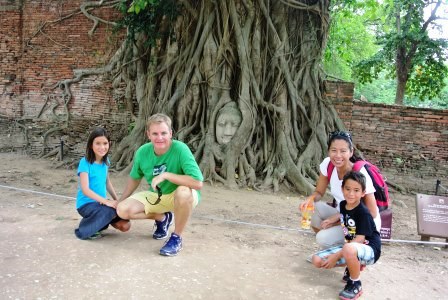 So, now the fun stuff.
Webley and I took a cooking class and learned how to cook some yummy Thai dishes.
Thai food is so delicious!
While the girls were busy in the kitchen, the dudes were doing their thing…
Fishing.  They caught Mekong giant catfish.
Aaron caught a 25 lb. fish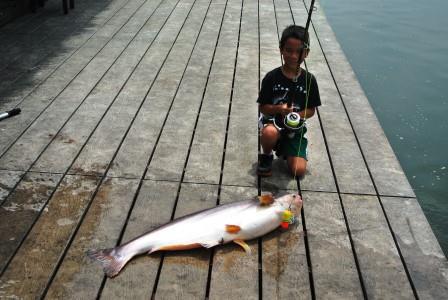 and Benjy caught an 88 lb. fish.
They weren't allowed to keep their catch and had to roll them back in once the picture was taken.
We took some boat tours and saw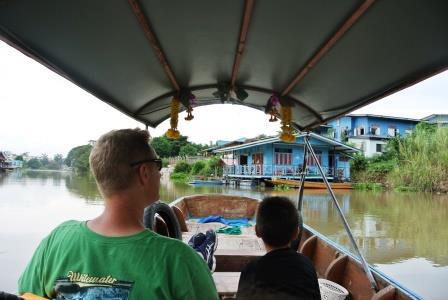 cool architecture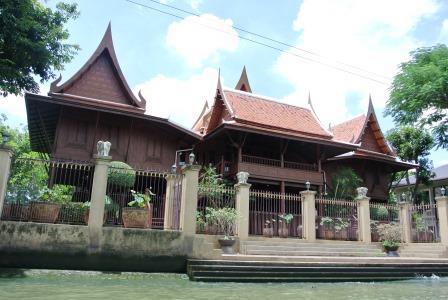 traditional boats
and monitor lizards.
We fed the fish.
These fish were right outside of a temple where fishing is not permitted.  The fish seem to know they are safe here.
We road in a tuk tuk.
And we took a 40 km bike tour of the countryside.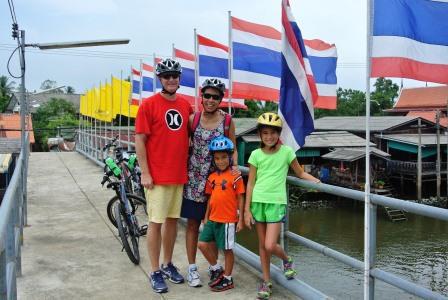 During the bike tour, we stopped at a primary school.  The kids weren't used to seeing tourists, so they were very excited for us to be there.
They practiced their English with the kids.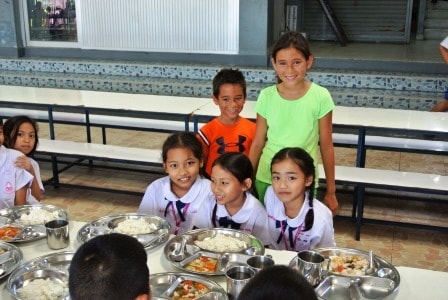 We stopped at a monastery and this female monk was particularly taken by Aaron.  It's funny that Aaron is nearly as tall as she is!
Bangkok was just lovely!