We pass by this man's shop nearly every day on our way into town.
As you stroll by his shop you can hear the "tink, tink, tink" of him hammering away at sheets of tin. Lining the floors and walls of his small shop are watering cans, mailboxes, buckets and other various items all handmade by this guy. I'd often pause briefly to see what he was working on and would think to myself that I should probably purchase something from him.
A few weeks ago, Webley was reading our local magazine and there was an article featuring the Tin Man. She said, "Mom, we better get to his shop quickly and buy something because he's 99 years old and he's retiring next year!" One thing we have learned living here in Asia is that people don't show their age as much. So, if you see someone who actually looks old, you know that he or she is REALLY, REALLY old. Now, there's no doubt that this guy looks old, but 99?! He sits on the floor and taps away day after day and has been doing this since 1952. He actually has a picture in his shop of him shaking hands with Margaret Thatcher.
And he's obviously out-lived the Iron Lady.  Ponce de Leon was clearly searching in the wrong place for the fountain of youth!
So we ended up buying from him this tin box for 80 HKD (or 10 USD).
With our purchase, we also bought the right to photograph him.  He wasn't very pleased with me when I snapped a picture of him before I made a purchase.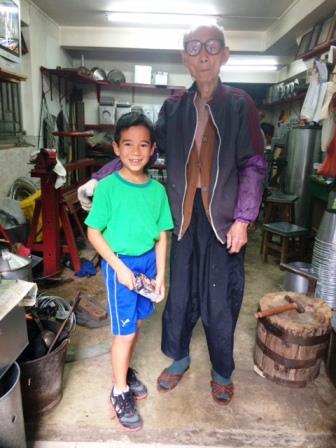 Webley is continuing her entrepreneurial efforts and convinced our next door neighbor, Kimberly,  to hold a rainbow loom bracelet sale with her.  Kimberly broadens the potential market since she can speak Cantonese.
Aaron's been improving his golf game.
Hong Kong's only public golf course is a short ferry ride from our house. The views rival Pebble Beach.