Yes, I know this is quite late.  I was enjoying my Christmas break and never got around to writing about our jaunt to Bali.  We spent Christmas in Bali and I know it sounds so extravagant and indulgent, but truth be told, on this side of the world it is actually quite an inexpensive vacation.  Airfare is reasonable and thanks to some travel money Benjy had to use or lose, off we went.
And Bali did not disappoint.  The beaches were splendid.
I thought this was a neat pic of the beach and a giant Buddha in the distance.
The hotel was straight out of a vacation magazine, truly a tropical island paradise.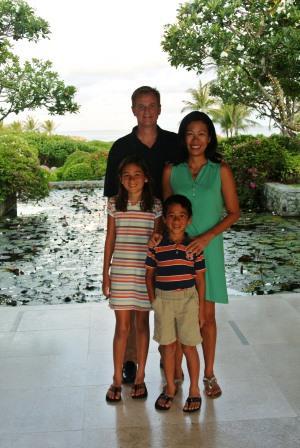 There were coy ponds throughout and the kids enjoyed feeding the enormous coy fish.
It also had its share of native residents like this monitor lizard who was sitting just outside our hotel room.
I actually saw one of those things jump into the pool and swim around.  As you can imagine, it caused quite a stir among the guests.
And speaking of the pool, it was lovely as well and I spent many hours snoozing by it.  It's ingenious how they planted trees all around the pool and on the beach.  Makes for some lovely shade and scenery.
There was also some entertainment provided by the aqua aerobics class with hideously loud techno music and an overly enthusiastic instructer.  I'm glad I only had to endure it for about an hour.
It's amazing how quickly the kids can make friends.  Aaron met this guy at the pool.  He spoke very little English, but he and Aaron seemed to enjoy each other's company nonetheless.  Aaron said he was trying to practice his English.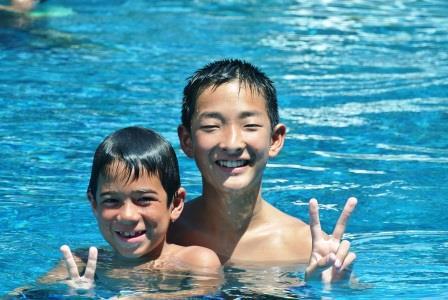 The next day both kids made friends with some American kids who lived in Singapore.  They went to the beach when it was low tide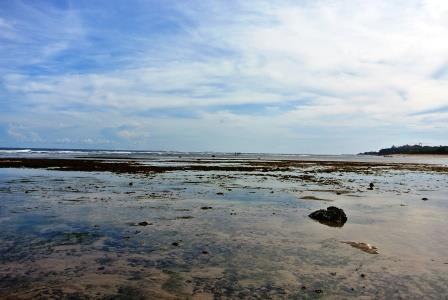 and were delighted to find all sorts of sea creatures in the tide pools.
There were starfish
Crabs, sea anemone and other animals.
Probably the most pleasant surprise that we had from the hotel is that on Christmas eve there was a Protestant Christmas service held in one of the ballrooms.  There was a choir and an ensemble of traditional Indonesian instruments playing Christmas carols.  Afterwards, the hotel provided a buffet of desserts, tea and coffee, all free of charge.  It was wonderful celebrating the birth of Jesus with other Believers in such an unexpected place.
On Christmas Day, we went to a restaurant for dinner.
We got a kick out of the Indonesian Santa who was handing out gifts to the kids.  Webley got this clock.  Not sure what the story is on that disturbing picture in the background.
 While we were in Bali, we went on a white water rafting trip.  It all started out well and good.
We were having a great time.
Then about a fourth of the way down, a plug came loose in our raft and we began to sink.
Since we didn't have a pump, our guide had no choice but to press on and this made for a very bumpy and somewhat harrowing ride.  The guide looks very concerned for our safety, doesn't he?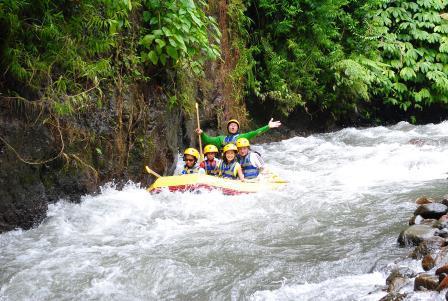 About half-way, we made a pit stop and one of the other rafts in our group had a pump, so we were back in business.
Then we came to this part of the river.
Let me just say that the website said the river had level 2 and level 3 rapids.  I went on a white water rafting trip last summer in North Carolina and the rapids were levels 3 and 4, and never did we encounter a drop-off the likes of this.  Clearly, the international rapid rating system needs to be audited.
And down we went.
Again, it's obvious that our safety and well-being were of the utmost importance to our guide.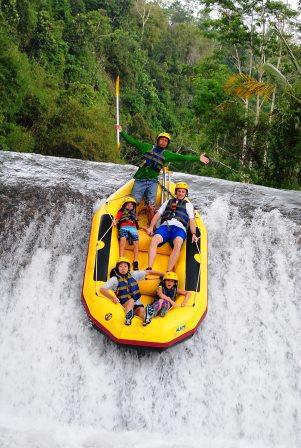 It was a 12 foot drop and for me was a complete surprise.  I think Benjy failed to mention that part of it to me when he booked it.
All's well that ends well.  Right?