This year Benjy and I celebrate our 20th wedding anniversary.  The actual date isn't until November, but because of some conflicts in the fall, Benjy decided to plan a big get away for us in April.  I knew the date of our trip and the length of it, but I didn't know where we were going or what we would be doing.  He revealed to me at the airport that the first leg of our trip would be an overnight stop in Colombo, Sri Lanka, but we would be proceeding early the next morning to our initial destination, the first of three.
The big reveal came at breakfast where he told me The Maldives. I must have had a blank stare on my face because Benjy asked me if I knew where the Maldives is.  I said, uh, no, but I think I've heard of it…a romantic island place with those fancy rooms on the water, right? Well, if the lavishness and extravagance of a vacation destination is an indication of how much a person's love is for another, then Benjy's love-o-meter for me must be off the charts!!  This place is NICE!! Fair warning: I took a lot of pictures which I know gets boring to look at, but the purpose of this blog is to keep a record of our adventures, so please indulge me.  Also, you'll have to excuse the fact that at times I might drone on and on about how wonderful our trip was, but it was our 20th wedding anniversary celebration and Benjy put a lot of thought and effort into planning it.  I deeply appreciated everything he did and I want him to know it! ;0) So, we flew from Colombo on one of those small prop planes.  All I will say about that part of the trip is that we got there and back safely, so really what more can you ask for?
This was the view from the window.
The Maldives is an island nation in the Indian Ocean consisting of about 1,000 islands grouped in a chain of 26 atolls.  Many of the islands are privately owned and serve as vacation resorts. We landed at the airport in Male, the capital, and the view from there was itself stunning.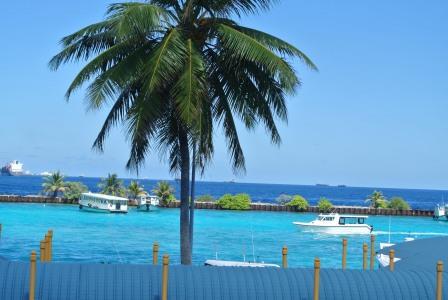 To get to our island, we still had to take a 45 minute boat ride.
And then we arrived…
Ahhhhh!  Each of the rooms at the resort was its own little cabana.  The room we stayed in for the first 3 nights had its own pool and
a private beach access.
The room itself was divine.
…with indoor AND outdoor showers and an outdoor tub, too!
The resort was, of course, spectacular.
The island was pretty small.  It only took us about 20 minutes to walk the perimeter of it.  It's covered with these trees which provided cool shade for our strolls.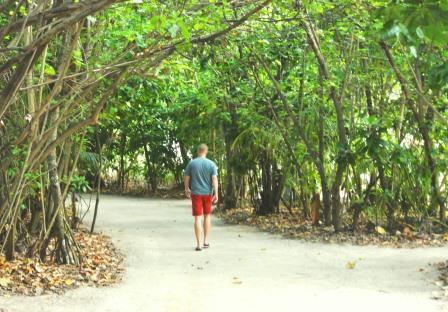 We enjoyed lovely sunsets and sunrises.
The last 2 nights of our stay we sprung for an over-water room.  We actually quite enjoyed our beachfront room with its private pool, but we figured this may be our only trip to such a destination, so we better take the opportunity while we had it.  And of course that room did not disappoint either.  There was a back deck with a huge sofa hanging over the water.
Obligatory feet shot from the sofa.
The room had floor to ceiling windows on 3 sides which opened fully.  We opened all the windows and let the ocean breeze blow through.  Here are some shots of our room.
There was a ladder going down from the deck directly into the ocean, so we could easily snorkel whenever we wanted.  And speaking of that, the snorkeling was spectacular.  The minute you would put your mask on and look into the water you could see beautiful, brightly colored fish and coral everywhere you looked.  We snorkeled everyday and saw sharks (there were reef sharks which I think means they don't eat people; they seemed completely uninterested in us) and swam with a sea turtle.  I've heard people say that Maldives has the best snorkeling and scuba diving in the world and I believe it.
Here are some more shots of the over-water rooms.
It's hard to believe that Benjy and I are old enough to be married 20 years.  We've definitely had our ups and downs, but looking back on our journey together, I have to thank the Lord for not only bringing us together, but for keeping us together.  The Lord and His word is the glue that holds us together.  It's been a wonderful, blessed adventure and it just keeps getting better!
Happy Anniversary to us!!