December 4th was officially our 2-year anniversary of living in Hong Kong and I have to say that those 2 years went by in a flash.  The memories of our last weeks in our previous home, Jacksonville, Florida, are still fresh in my mind.  We were packing up and tearfully saying good bye to friends and family.  I can remember telling everyone, "we'll be back in 2 years.  The time will go by quickly."  Well, I was right about one thing.  The time did go by quickly.  But, here we are, two years later and we are still in Hong Kong.
Within in a year of us relocating, FedEx notified Benjy that they would be changing the airplanes based out of Hong Kong from the Airbus to the 767.  Benjy had to be trained on the 767 and long story short, it extended his commitment to stay in Hong Kong at least another 2 years.  We took the news in stride and we are actually excited about staying longer.  We just aren't ready to leave yet.
I feel like we've come a long way since those first few months.  I'm no longer terrified of getting lost in the city; I can use public transport like a champ and my Canto skills are a little better (but not much).  The thing that has probably made the most difference is that I have made some really nice friends over here and our church is really awesome.  Hong Kong feels more like home now.
Here are some random pix taken around the city this past year that didn't really fit into any particular post.
An enormous worm we saw near the water front.  Even Aaron wasn't interested in picking it up and using it for bait.
Benjy as a terra cotta warrior.
We've taken the time to explore different parts of Hong Kong.
We visited the goldfish market where you can buy just about anything that goes into a tank, like salt or fresh water fish, turtles and hermit crabs.
There's also a flower market with stalls and stalls of fresh flowers and plants.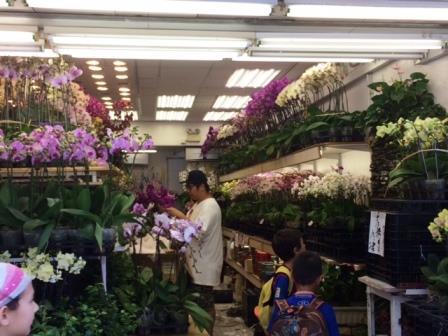 And the bird market with a multitude of birds for sale.
And for my final picture of 2015, I saved one of my favorite photos for last.  It makes me giggle everytime I look at it.  I just had to share.
Clothes driers aren't widely used here.  Most people hang their wash outside to dry, skivvies and all just flapping in the wind for the world to see.  Only in Hong Kong would you find panties juxtaposed alongside dried fish.
Happy New Year from Hong Kong!