Benjy's mom, Karen, and her husband, Rob, came to visit us for two weeks.  We did the typical tour guide thing of Hong Kong, which of course would not be complete without a stop at the Peak.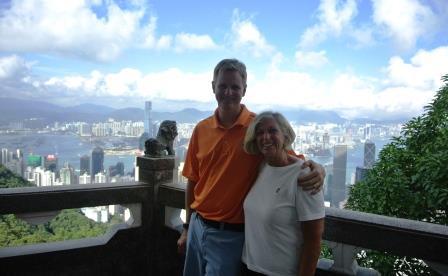 It was a good day to visit the Peak.  The weather was cooler and the air was clear.  The views were stunning.
Rob and Karen were with us for two weeks, so we decided to visit the Philippines while they were in town.  We went to Palawan and spent a relaxing week at the beach.
We stayed on an island near Port Barton. To get there, we had to drive 2 hours from the airport on this "road" that seemed like it was straight out of the movie "Romancing the Stone."  It was late at night and pitch black outside.   I was pretty sure we were going to get stuck in the mud  in the middle of nowhere and have to walk the rest of the way in the muck.  But, somehow we made it.  Then we hopped on a boat and took a 30 minute ride to an island.  Our travel adventure dramatically concluded when we arrived on the island and Karen slipped and practically did a cartwheel off of the boat into the water.  There was dead silence for a few seconds until she surfaced laughing hysterically.  We all breathed a sigh of relief that she wasn't hurt and then gaffawed right along with her.
The kids were extra tickled by the name of the place.
Webley and Aaron have all of the seasons of Gilligan's Island on DVD and they love the show just like Benjy and I did when we were kids.  On our first day, they spent about an hour singing the theme song over and over.  We pretty much had the whole island to ourselves.
This is the little house we stayed in.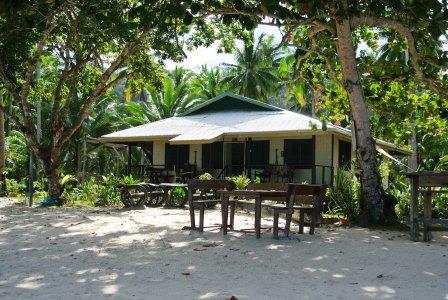 True to the theme song from the show, there was no phone (not to mention wifi or internet access), very little lights, definitely no motor car and few luxuries, except the soft sand, gorgeous view and the constant sound of the waves breaking on the shore.  That was luxurious enough for me.
The house did not have air conditioning; it did have, however, hot running water, but during the day electricity for the house was generated by solar panels.  At night, an electric generator would turn on at around 6:00 p.m. to run the lights.  At 10:00 p.m., the generator shut off completely leaving us pretty much in the dark.  We slept under mosquito nets and battery powered fans.
Most of the days were spent doing beach stuff like shell hunting…
Kayaking…
and exploring the island.  There were a few locals who lived on the island, including 2 hosts who did a great job of taking care of us during our stay.
We also had a few chickens who kept us company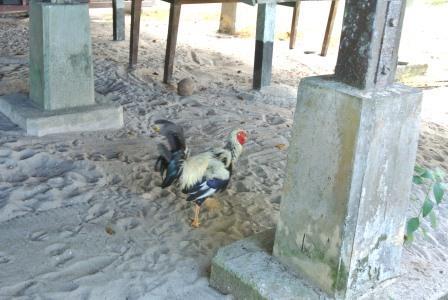 and a resident pig who I believe acted as our garbage disposal.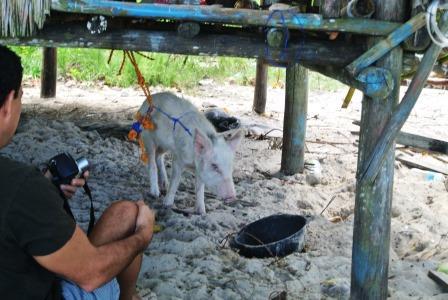 Of course Aaron got to do a bit of fishing.
We ate coconuts from the trees around our house.
Obligatory feet shot.
There was also a volleyball net and a giant, soft soccer ball (about 3 feet in circumference), that was more like a balloon than a soccer ball.  Rob, the kids, Benjy and I decided to play a few rounds of volley ball.  The first few matches were the kids and Rob against Benjy and me.  Benjy and I always came out victorious, no thanks at all to me.
Let me just pause here to say that I have no athletic ability whatsoever.  In addition, I absolutely hate volley ball.  I have flashbacks of being forced to play the game during P.E. in middle school, suffering jammed fingers and bruised arms.  I hate it now as much as I hated it then, but there just wasn't much else to do and we needed a little bit of entertainment.  Plus, the "ball" was much softer than the ones I remembered from middle school.
Polar opposite to my lack of athletic ability is Benjy who is actually quite athletic and hates to lose.  Rob is also fairly athletic.  We decided to have a match with Rob, the kids and I all against Benjy.  Sure enough, Benjy won every time.  We did different iterations.  First there was Benjy against me with a something like a 10 point handicap.  He still beat me.  Then it was the kids and I against Benjy with a 10 point handicap.  He beat us.  Benjy then proposed that I play against Aaron with a 5 point handicap.  And yes, I got beat by my 8 year old son.   And no, I did not let him win!!  The boy hasn't let me live it down since.  He's still talking about it weeks later.  The 2 sentences I keep hearing repeated over and over since our trip are:
"Remember when Mimi did a cartwheel off the boat?" and "Remember when I beat mommy in volley ball?"  Yes, yes I remember both of those things.  The giant sea turtle we swam with seems much more memorable in my mind, but what do I know?
Aside from the volley ball, we spent a day touring around in a boat and we snorkeled at a few spots.
We swam with sea turtles and saw many colorful fish.  The sand was warm and soft.
Here's a picture of our boat.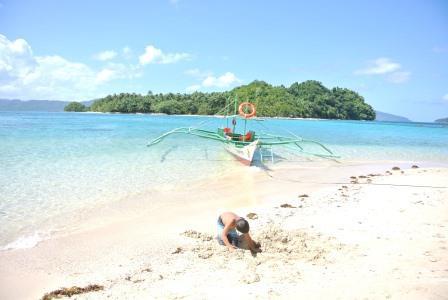 and us with our boat drivers.
It was a wonderful way to spend the day.
We took a day trip to the Puerto Princesa Subterranean River National Park.  It is one of the "New 7 Wonders of Nature" and is on UNESCO's World Heritage List.  The underground river is 8.2 km long and it flows directly into the ocean.
The photos I took don't do it justice for obvious reasons.  With the exception of the flashlight on the boat, it was pretty much pitch black.
There were also a lot of bats and lots of bat poop.
On the drive back, we stopped at a location of one of the challenges for the TV show, "The Amazing Race."
We had a wonderful, relaxing time and it was so nice to just be with family!