Over Chinese New Year, we went back to Phnom Penh, Cambodia on a short term family mission trip with our church, Island ECC.  This year Benjy and I acted as co-leaders along with our friends, Jeff and Deb Holcombe.  The mission team included 23 people from 7 families, with our youngest team member being only 14 months old.  We partnered with two mission groups on the ground in Phnom Penh who have been faithfully doing their work there for several years, the Jehovah Jirah Center and Children at Risk.
As we did last year, we spent the bulk of our time with the JJ Center who ministers to children whose families work in and live around the city's trash dump.
At the JJ Center, we held a vacation bible school for the kids.  They really enjoyed the games, crafts and coloring, which all centered around the Bible story in Mark 8 of Jesus healing the blind man.
The JJ Center provides one meal a day to the children and sometimes its the only meal a child may get.  After the games and crafts, we ate lunch with them and then had a birthday party with cake for all of the kids.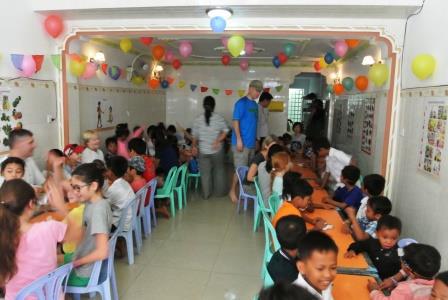 I was so proud of the kids on our team.  Most were between the ages of 8-12.  We provided the kids at the center tie-dyed t-shirts.
It is no exaggeration when I say that Webley tie-dyed every single shirt herself with no help from anyone, a total of 55 of them.  We were knee deep in tie dye!
As part of our ministry, we washed and de-loused the hair of the children at both Children and Risk and the JJ Center.  This is where I saw our kids really show their care and concern for their Cambodian friends.  Not just my kids, but most all of them on the team participated in the de-lousing with not a single complaint or hesitation.  And on some of the children, there was a lot of lice to deal with!
It was really sweet to see them work so selflessly.  After the hair washing, we took a tour of the area surrounding the JJ Center.  The JJ Center kids so wanted us to come visit each of their homes, but of course we only had time to visit a few.
We saw where the workers sort the trash.
Sometimes it's easy for me to feel discouraged when faced with the plight of the people in Cambodia.  There's so much corruption, poverty and hopelessness.  It makes me appreciate the work of the missionaries on the ground.  They battle it out day after day, week after week and year after year.  I am in awe of them and I pray for their support and encouragement.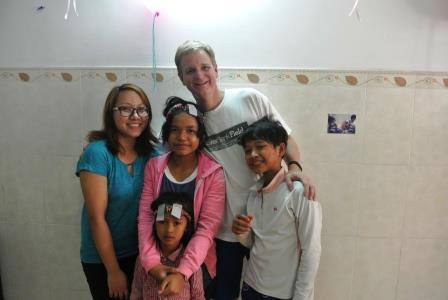 "Christ has no body but yours.  No hands, no feet on earth, but yours.  Yours are the eyes through which to look out Christ's compassion to the world.  Yours are the hands with which He blesses all the world.  Yours are the hands, yours are the feet, yours are the eyes, you are His body.  Christ has no body on earth but yours."  –Teresa of Avila