So, we moved from our tiny 900 square foot apartment to a house that is a total of 1400 square feet of living space plus a roof top.  We did this in December and I'm just now getting around to writing about it.  Sorry.
I know these pictures are so interesting (not), but here's our living room.
and kitchen
It's definitely not as modern as our old place, but I can live with the outdated kitchen and ceiling fixtures for more space.
Our new place is literally 300 feet from our old apartment, but it might as well be a world away.  Our old apartment was located in a gated complex with loads of expats like ourselves.  It was like an island unto itself and it was a good place to transition from living in the U.S. to living in Hong Kong.
Now that we are more seasoned expats, we decided to venture outside of the walls of our enclave to the little village next door where the rents are much lower and the living space larger.  Our landlord is a local Chinese lady, Mrs. Man, or in Canto, Tai Tai Man, and she and her husband live in the flat beneath us.  She speaks English OK, but not great.  Still, her English is much better than my Canto.  I don't think her husband speaks English at all, at least he pretends not to.
Most of our neighbors are also local with very little English-speakers.  There's this sweet old lady who says hello to me nearly everyday, but can't speak a lick of English.  I try in my broken Canto, but as you can imagine, I don't get very far.  She loves Aaron.
Another one of our neighbors has a parrot name Jai Jai.  Before we moved to this village, I'd see his owner riding around on his bicycle with a perch rigged onto the handle bars of his bike.  The perch lights up at night and it also plays music.  I'll see them riding around town at night with music blaring, lights flashing and Jai Jai bobbing his head to the beat as he's being wheeled around.  I know all of this sounds really strange, but it's completely true.  No one else around here acts like there's anything unusual about it, though.   To prove none of this is made up, here's a picture of Jai Jai on his bike.
He's not sitting on his usual perch, but on this wind visor thingy that his owner constructed out of an empty water bottle.  Jai Jai sits inside this visor as he's being biked around.  It apparently protects him from the chilly air while he is riding.  You can just make out the mini speaker rigged to the bike and there are all sorts of zip ties and bungee cords holding everything in place.  In this picture he is patiently waiting for his owner who is yam cha (having afternoon tea) at a dim sum restaurant.
When we moved in, we were happy to find out that Jai Jai lives just next door.  We hear him on the roof top singing very loudly "Happy birthday to you…" and then he'll say in Canto that he wants to be fed.  He switches back and forth between English and Cantonese.  It's quite impressive.  I dare say his Canto is better than mine.  Sometimes, however, he can go on and on until late at night.  Webley says that on some nights his chatter keeps her awake.
There's also a lady not far from us whose favorite pastime is karaoke.  She sits all alone in front of an enormous TV and belts out Canto pop songs.  The windows are open and anyone who lives nearby (like us) can hear her, but she doesn't seem to care at all about that.  I know I'm going to look back on all this one day and get a good chuckle.
So here are a few more shots of our new digs.
Webley's room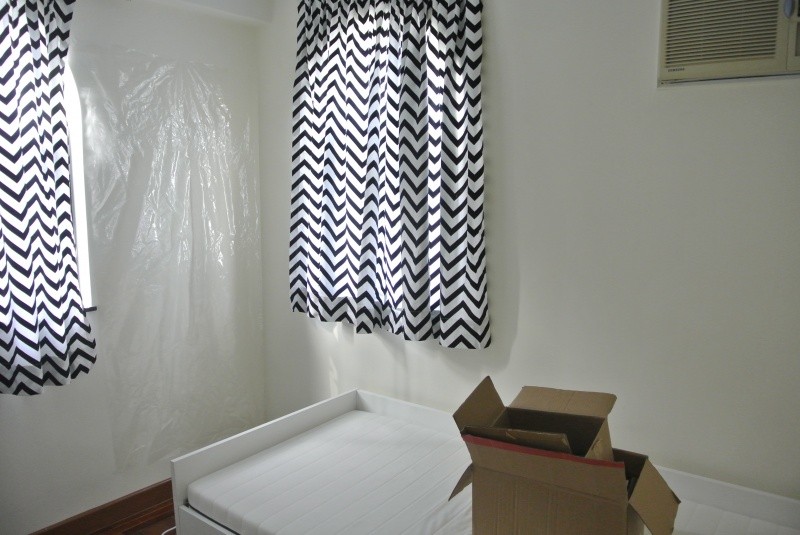 Aaron's room
Benjy's and my bedroom
Homeschool area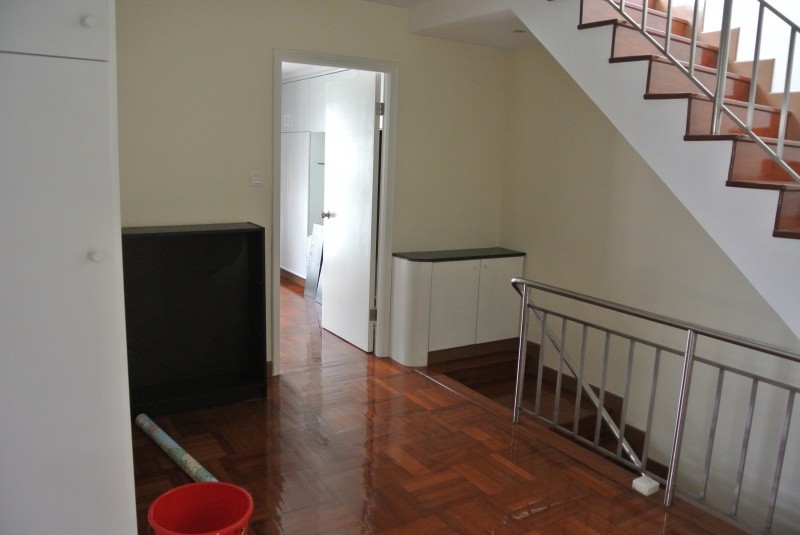 Webley's rooftop craft room
And the best part of all is this view.
I think it's worth the price of admission.