We took a short spring break and traveled to mainland China to an area near Guilin.  I've heard some describe it as the "Grand Canyon" of China.  I don't think it's an apt comparison, though, because the mountains and terrain around Guilin are quite different from the desert environment of the Grand Canyon.  Nevertheless, the area is equally  picturesque in its own right. I don't think I've ever seen anything like it.  This area is quintessential China and is depicted on its 20 yuan note.
The mountains are gorgeous, haunting, almost creepy at times.
We spent most of our time biking through the countryside enjoying the scenery.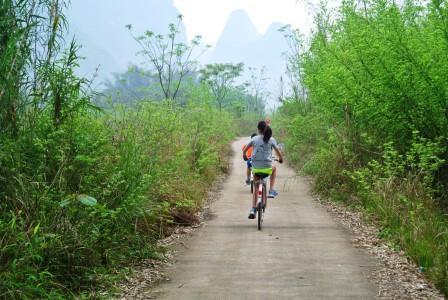 Along the way, we stopped at an ancient village that dates back to the 1500's.  I wish the Volkswagen hadn't been in the shot.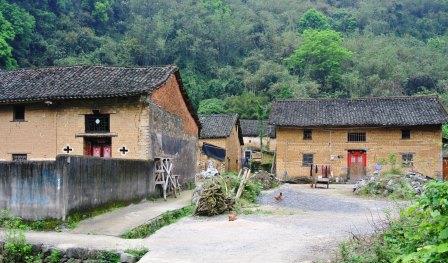 And we hiked up to a rock formation called Moonhill.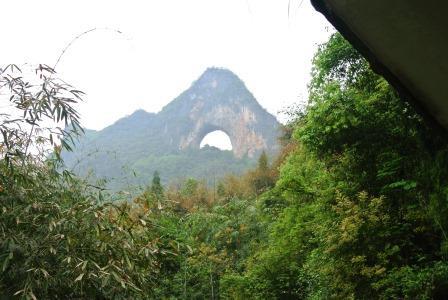 This is at the top of Moonhill.
Webley acted as our translator while we were there.  She and Aaron have been studying Mandarin since we moved to Hong Kong and they have both done well with it.  Webley is more bold in her practice of it, however, so she is happy to chat it up whenever the opportunity arises.  I wouldn't say she is necessarily fluent, but she can certainly hang.  And there were certainly moments where we would have been completely lost without her.
We also spent a lot of time in the city of Yangshou.  We stumbled upon a Chinese Muslim noodle shop.  For those of you who have never had Chinese Muslim food, you are definitely missing out!
This guy literally makes a fresh batch of noodles for each order.
He rolls the dough out, pulls the noodles and then slams them on the table.
I think the slamming part is meant to shake the excess flour off of the noodles.  Then they throw the noodles in an enormous pot of boiling broth.  Out comes a blazing hot bowl of goodness.
It's so good.  Webley ordered the noodles with garlic shoots and beef.  Yum!
It was a great trip!