With Benjy in the driver seat, me sitting shotgun, Jen in the jump seat directly behind me and the kids stuffed somewhere in the way back, we drove to our next stop, Mesa Verde.  Although the destinations on our itinerary were definitely noteworthy, I'd have to say the journey in our traveling van is now what sticks out most in my mind.  We named the van "Sheldon" or "Shelly" because it wasn't necessarily the hippest means of transportation and the man at the helm, despite his occupation of a pilot, wasn't necessarily Dale Earnhardt, Jr.
Here's all of us in front of Shelly.
We had 80's tunes blasting on the radio and although we were singing badly out of tune we surprisingly still knew all of the lyrics to each song. There was G&R, Prince, Madonna, Journey, Twisted Sister and AC/DC, to name a few.  It was our version of carpool karaoke, completely devoid of any celebrity status, but equally as hilarious (at least in our own minds).
There was a lot of groaning, eye-rolling and feigning of asphyxiation going on with the younger occupants.  The adults, however, remained steadfast in holding the con.  We pressed on and refused to  succumb to the likes of Taylor Swift and One Direction.  Muwahahahahahhahaha!
We headed south towards Cortez, Colorado to our next stop, Mesa Verde National Park.
What a stark contrast the desert mesas were to the lush black canyons we had seen just the day before.
We managed to sneak in some educational material by learning about the Pueblo Indians who lived in the canyons and built cliff dwellings during the 13th century.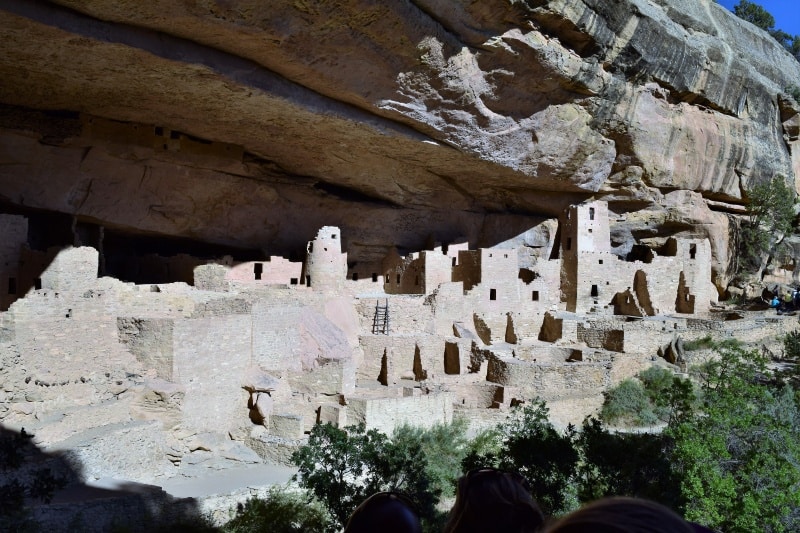 The Pueblo Indians built their homes in the cliffs, not for safety as initially thought, but because interestingly, they had better access to water beneath the mesas then on top of them.  The dwellings were also constructed in such a way that they provided exceptional shelter from the elements.  The thick stone construction enabled them to maintain the temperature inside the walls around 50 degrees Fahrenheit year-round which protected them from the frigid cold during the winters and the intense desert heat during the summers.
We had to climb up this 35 foot ladder to access one of the dwellings; it was not for the faint of heart!
The architecture  was quite impressive and has obviously lasted for centuries.
We also could not resist a detour to the Four Corners Monument, where Colorado, Arizona, Utah and New Mexico meet.  We took the obligatory being in 4 different states at one time pictures: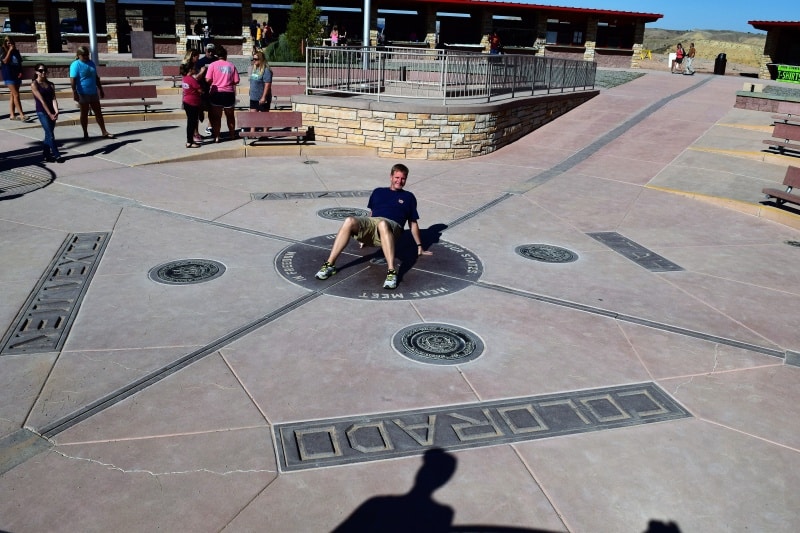 And the one with each of us standing together in 4 different states:
Pretty cool, huh?