Our next stop was Badlands National Park.
In the early 1900's, French Canadian hunters called the area "les mauvais terres pour traverse" or "bad lands to travel through."  It was named as such because the land was subject to extreme temperatures and lack of water and the terrain was exposed and rugged.
Of all of the places to which we traveled this summer, the Badlands was my absolute favorite by far.
Friends, it is a must-see in my book and truly bucket-list worthy.  I snapped a lot of pictures at this stop, so apologies in advance if it gets boring!
We hiked all around the Badlands.  There was lots to see.  Luckily, it wasn't crowded and despite the arid conditions, the temperature was comfortable and on occasion even chilly.  I was thankful that we hit the park at such a good time because I have heard that the weather can be oppressively hot and downright miserable.  Hence the name.
We saw plenty of the rocky terrain.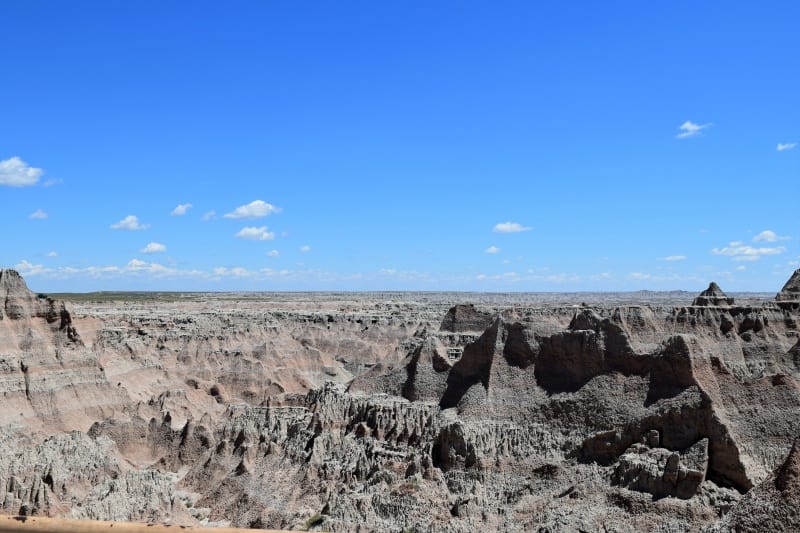 The scenery was breath-taking.
In contrast to the rocky desert lands, there was also expanses of gorgeous prairie-lands with herds of big horn sheep and buffalo.
This picture I call "Four White Sheep Boo-tays."
I suppose if I had to travel through the area on foot, with no access to water and no relief from the elements, I would think of these lands as "bad."  But from my perspective, it was nothing short of spectacular.