Now that I've covered our summer, I will do a re-wind back to our travels during the spring.  I'm almost all caught up now!
When we moved to Hong Kong, Webley's biggest travel wish was to visit Australia.  So, last April her wish was granted.  We began our trip down under by flying into Sydney.  Even from Hong Kong, it was an 8-hour flight.  One of the first things Aaron said to me when we arrived (which I was actually thinking to myself at the same time as he said it), "wow, I can understand what people are saying again!"  Yes, folks, it's the small things in life we have come to greatly enjoy and appreciate from our time living in Asia–understanding and being understood.
Of course a trip to Sydney would not be complete without pictures of the opera house and bridge, arguably two of the country's most iconic images.
Both at night
and during the day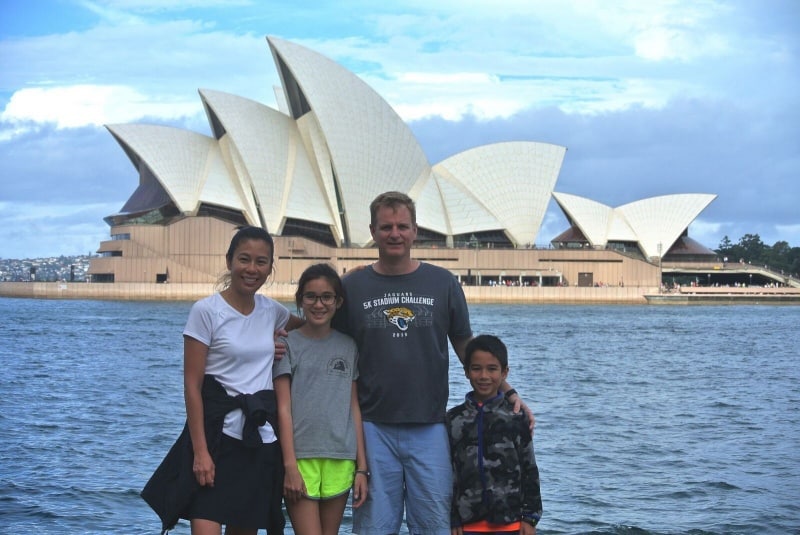 We spent a day at a sheep farm and learned about all things sheep, threw boomerangs and enjoyed lunch with 100 of our fellow Chinese tourists.  The farm had 2 awesome sheep dogs who clearly love their jobs herding the sheep and other animals on the farm.  They were truly amazing pooches to watch.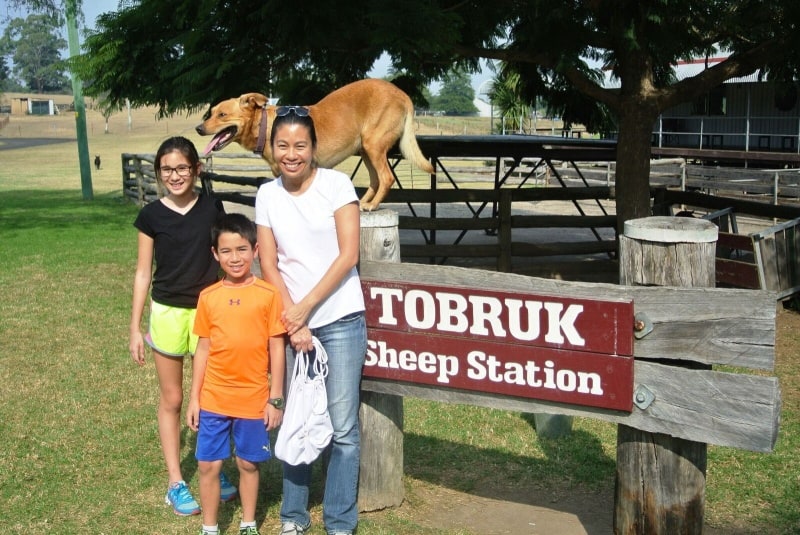 The kids and Benjy tried their hands at throwing boomerangs.  Benjy's throw was textbook.  It soared in the air and, as advertised, circled around and landed within 10 feet of him.  Webley's throw, on the other hand, wasn't quite as elegant.  Well, I suppose if she were trying to kill a critter 2 feet in front of her, she would have been deadly since she spiked it into the ground like it was a football.  Bless her heart, she got her athletic ability from her mom.
We also spent some time at Bondi Beach.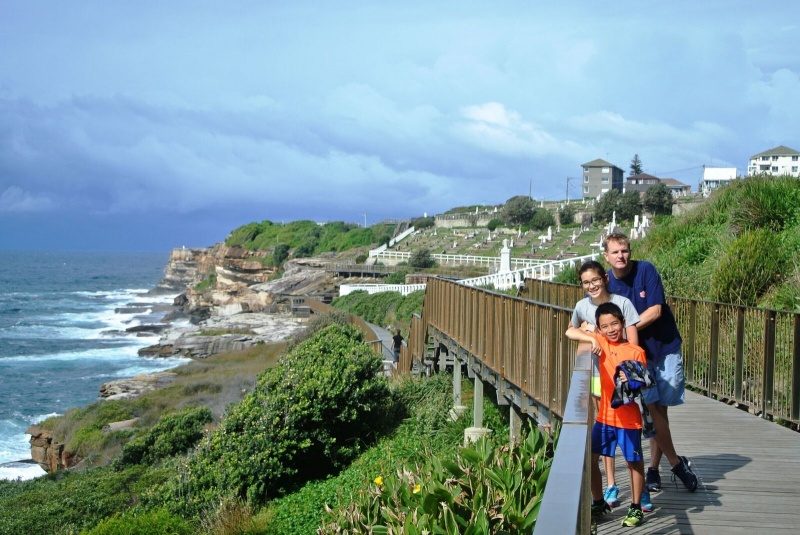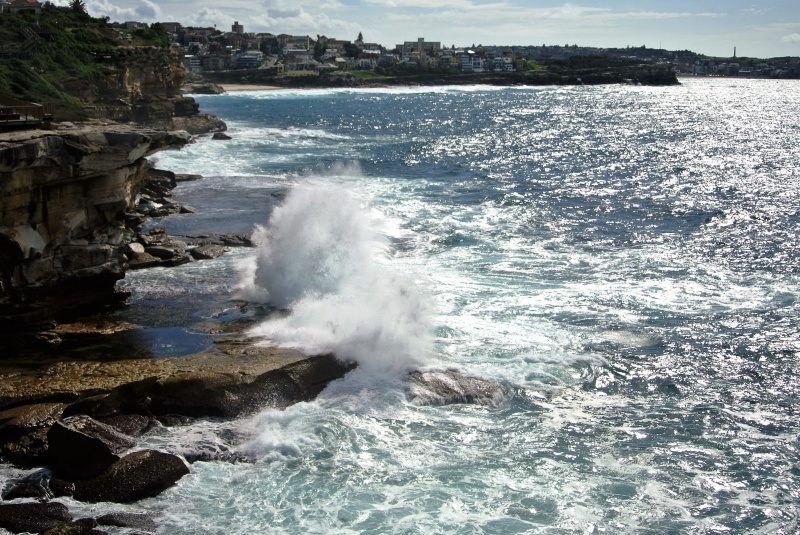 Had lunch of fish and chips with a spectacular view.  Aaron was in full on hangry mode at this point and, as you can see, was in no mood for photos.
After Sydney, we headed up to Cairns so we could do some snorkeling at the Great Barrier Reef–another item on Webley's bucket list.  The boat that took us out there was this giant sailboat.
I have to admit that I was a little underwhelmed by the snorkeling there.  Don't get me wrong, there were loads of colorful fish and coral, but in my humble opinion, the Maldives was heads and shoulders above the Great Barrier Reef and I'd put the locations we have snorkeled in the Philippines ahead of it as well.  Just my 2 cents worth.
Sadly, our camera went kaput on this part of our trip, so we don't really have a lot of photos from our snorkeling excursion.  Just a few shots from the sailboat.
And this pic of us in our goofy wetsuits, which we had to wear to protect us from jellyfish.
While in Cairn, we spent some time at Hartley's Crocodile Adventures.  It's a crocodile farm/animal rescue/petting zoo.  We, of course, saw lots of crocs, but I was more enthralled with all the kangaroos in the petting zoo.
Here's a mama kanga and you can see her joey peeking out of the pouch.
We also got to pet these cute wallabies, which look like mini-kangas.  This one followed me around the petting area.  He was so cute.
After we left the petting zoo, we passed an Aussie lady who asked me if the petting zoo was any good.  I excitedly said, "oh yes, there's lots of kangaroos and wallabies to pet."  She said to me, "oh those are nothing special."  I guess in these parts kangaroos are the equivalent to the tired old goats and sheep we get in the petting zoos in the U.S.  This thought was confirmed later on when we saw a kangaroo crossing sign as we drove back to our hotel.
The crocodile farms also had rescued koalas.  Koalas are Webley's favorite animal, so she was thrilled to get up close to one.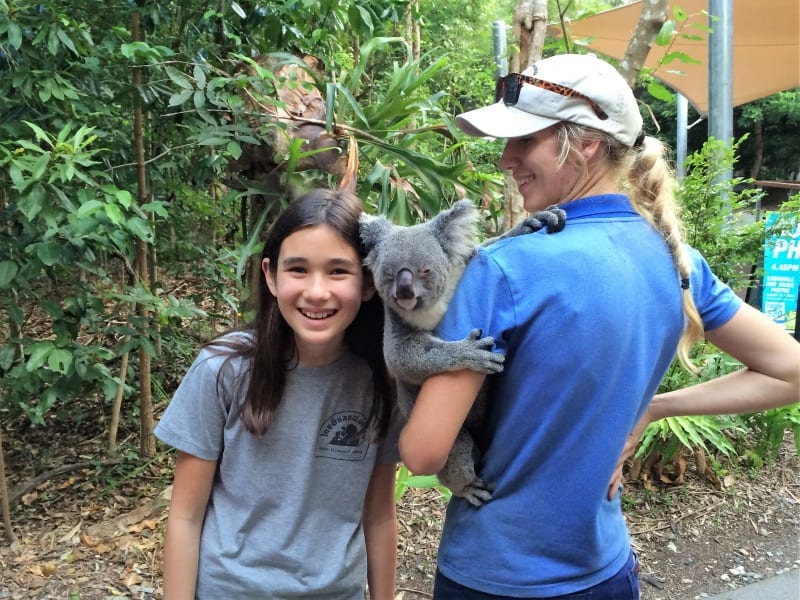 I was pretty excited too!