Since we were in that area of the world, we would have been remiss to skip New Zealand.  Still, it was a 4-hour flight from Sydney to the south island!  While we were waiting for a shuttle to collect us from the airport, we noticed this group of middle-aged Chinese ladies wandering around the parking lot.  They were obviously lost and it seemed their English skills were minimal.  Folks, traveling in New Zealand is much like traveling in the U.S.   There's nothing but English everywhere and really no one around who can help if you don't have a translator.  Knowing what it's like not to understand or be understood, Webley steps up and boldly starts speaking to them in Mandarin.  She finds out what they are looking for and then she and Benjy try as best as they could to help them find their way.  They were finally able to direct the ladies to the right shuttle to pick up their rental car.  I can remember thinking, "phew it's going to be a long trip and quite an adventure for these ladies.  They must really want to see New Zealand."  Little did we know at the time, that this wouldn't be the last we'd see of them.
Before our trip, we did a lot of research into the best way to see the south island.  Benjy was convinced that hiring a camper van was the preferred method.  I, on the other hand, wasn't so keen.  After much cajoling, we finally settled on this number:
 It came complete with a kitchen, frig and allegedly enough room to sleep 4 people, no potty however.  Since camping is quite popular in New Zealand, there are loads of camper sites called holiday parks.  Some are quite "nice." So, this (or sites like it), was our home for the week.
At each park, we could plug in for power.  We actually had no need for the kitchen inside our camper because there was always a community kitchen available for use.  There were also shower and restroom facilities, laundry, playgrounds and even wifi.
The kids slept up top and Benjy and I slept on a fold down bed in the back.
No, it wasn't the Ritz Carlton (nor a Motel 8, for that matter), but you really couldn't beat the views, the convenience and, of course, the cost of it.  As Benjy kept reminding me, "it's an adventure!"
We spent our first night in the camper in Kaikoura.  At about 2:00 a.m. we are all suddenly awakened by this screeching siren that sounded like the air bombing alert horns from World War II.  All of us woke with a start and I said, "are we being invaded?"  We laid there for a few minutes; the sirens stopped; and we didn't see anyone else running for a bomb shelter, so we went back to sleep.  Later, we discovered that New Zealand has a volunteer fire brigade.  The sirens are sounded to call in the volunteers when help is needed.
Our first excursion in New Zealand was a dolphin encounter.  We suited up in wetsuits because the water was a bit chilly, about 60 degrees Fahrenheit.
Our guides found a pod of about 200 dolphins.  These are wild dolphins and our guides do nothing to attract them.  They just take us to the location where they know the dolphins are feeding in the morning.
They were so playful and jumping around, doing flips in the air.
It was so much fun to watch!  And then we got to jump into the water and swim with them!
The water was freezing (even with the wetsuits on), but I was undeterred.  The dolphins were so curious about us and swam around us in circles.  It was like they were laughing at us and saying, "oh look, it's those goofy looking humans again.  Bless their hearts, they can't even swim properly."  I loved every minute of it and didn't want to get out of the water.  Benjy and the kids, on the other hand, thought the experience was just "meh."
We continued on our way and saw lots of beautiful landscapes.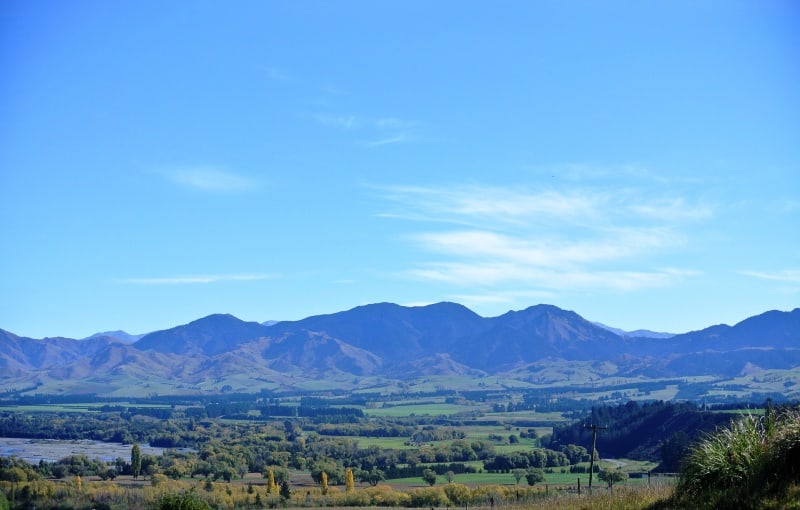 We would drive for hours at a time passing nary a soul.  The thought occurred to me a couple of times, "what would happen if we broke down in the middle of nowhere?"  We'd be walking for miles before we found anyone who could help. Luckily, we never had to worry about that.
Along the way, we stumbled upon this hidden beach.  It had really interesting driftwood and a picturesque forest next to it.
Our next stop was Greymouth.