On the second day of our road trip, we finally arrived at Mount Everest, also known in Tibet as Mount Gomolangma.
It was nearly sundown, so we stopped at the Rongphu Hotel, our home for the night.
I use the term "hotel" loosely.  It's really just a building near the Rongphu Monastery where tourists bide their time waiting for the weather to clear enough to get a good view of Mount Everest.  The monastery is the highest monastery in the world at about 5,000 m (16,400 feet).
We had 1 room for the 5 of us (including Bow).  When our guide told us that we would all be sharing a room for the night, I jokingly told Bow that our family liked to sleep naked and that I hoped she didn't mind.  She giggled nervously at first and then realized that I was totally kidding.  Sometimes I forget that American humor doesn't always translate.
And this was our room.
There was no heater (it got as cold as -10 C/14 F at night), no running water and the "toilet" was just a hole in the ground out back (don't even get me started on the toilets in Tibet, the only dark spot (pun intended) in an otherwise delightful country).  It was so cold we slept fully clothed in our jackets, gloves and hats.  Good thing we were only staying one night!
There was a small restaurant that had a yak dung burning stove, though.
So we camped out here until it was closing time.
Finally the moment we had traveled all the way here for…. Mount Everest base camp.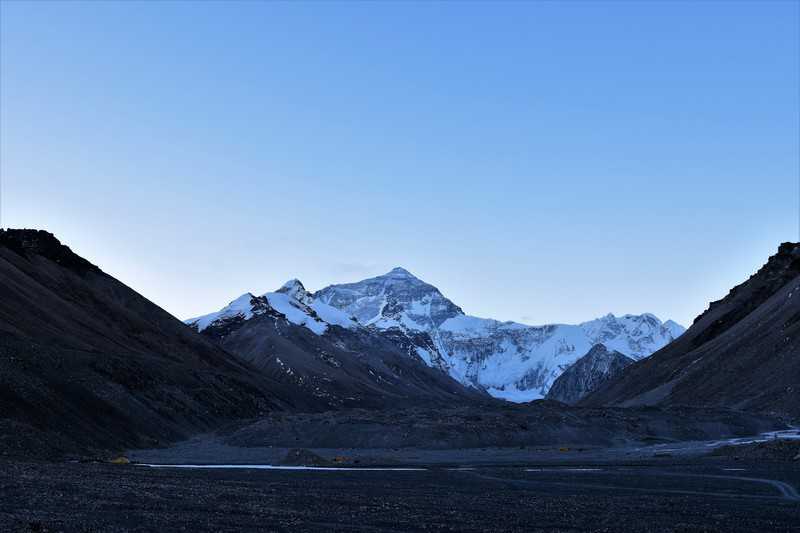 Before sunrise, we got up and piled into our car.  No, we didn't hike the last 4 km up from the monastery.  We didn't want to miss the sunrise over Mount Everest and it's a good thing we didn't attempt it because the last 100 feet which we had to walk up about killed me.  We were at an elevation of 5,300 m (17,500 ft).
If you look closely in front of the mountain, you can see tiny tents.  There was a team of climbers who had arrived the night before and they would camp here for a few days to acclimate to the elevation.  It would take them 6 weeks to make it to the summit of Everest.  Here's a close up of the camp.
Yep.  This is what we came here for…lots of pictures of Mount Everest.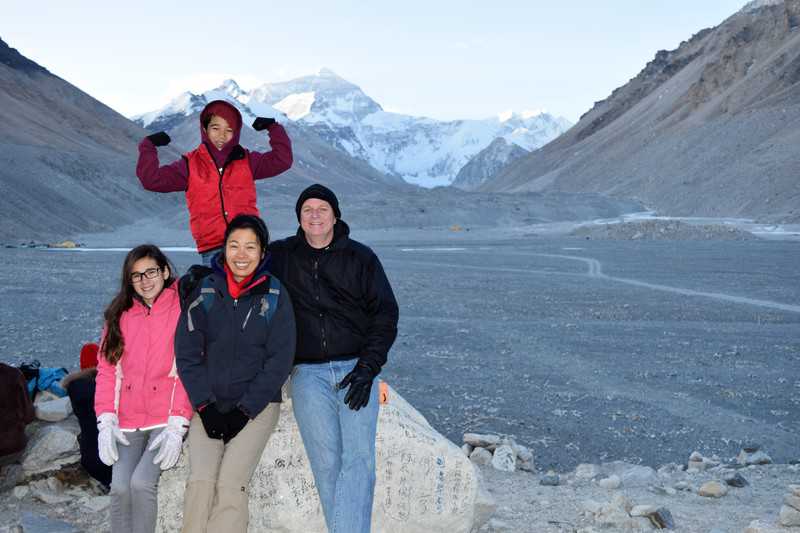 Now being a slave to fashion and hyper-aware of everyone looking at her (which, of course, no one is), Webley refused to wear a hat or pull her hood up.  That's why she looks so miserably cold.  Benjy and I took off our hats for the photos only, which explains our terrible hat head.
Now this is a funny story.  This random Chinese lady in another tour group asked Webley and Aaron to take a photo with her.  We had never seen her or spoken to her before.  I guess she thought a shot of her with two half white/half Asian kids at the base camp of Mount Everest was photo-worthy.  The photo bomb of the guy in the back cracks me up too.
So that's another item checked off our bucket list.