Well, it was a long summer!  We left Hong Kong for the U.S. on June 1 and we got back on August 22. For me, it's always like climbing through a wormhole in the universe, traversing between our life in Hong Kong and our life in the U.S.  The 2 worlds rarely intersect, especially on the U.S. side.  We get on an airplane in Hong Kong, where just about everyone is Asian and speaking Cantonese.  Seventeen hours later, we pop out on the other side in Dallas where just about everyone is white and speaking English.  It's surreal and it takes me awhile on both ends to adjust.
So we landed in Hong Kong and were greeted with the city's hideous heat and 100% humidity.  The very next day a typhoon level 10 hits (T8's are the norm).  Welcome back!  Now, I'm staring down the abyss of another school year.  This is my 5th year homeschooling.  All I can say is….wow.  We're all still here…alive…and still (somewhat) sane.
Anyway, we covered a lot of ground while we were in the U.S. (both literally and figuratively), so there's a multitude of pictures to share and stories to tell…some not always so great (more on that later), but never dull and mostly a blast.
So, I'll start at the beginning of our summer which included a lot of family time.  We spent some time with Benjy's mom and her husband, Rob, at their house in Gulf Breeze.
Then the Filipino side of Team Woods converged on a beach house my sister rented on Pensacola Beach.
My cousin, Maya, and her family joined us again.
This time we also had a visit from my cousin Michael and his 2 handsome sons.
The last time I had seen Michael is when I was 15 and my mom and sister and I had traveled to the Philippines to visit my grandparents.  This is a picture taken during that visit.  In it are my grandparents and most of the Malonzo cousins alive at the time.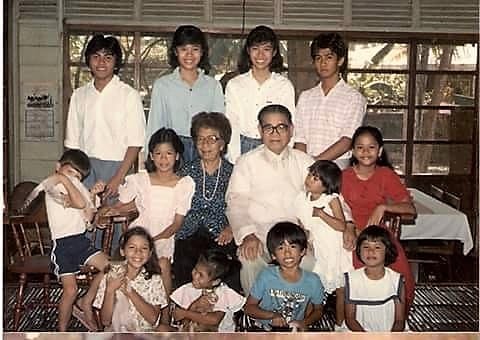 Michael is the oldest cousin and he's standing on the far left.  My sister, Gay, is standing next to him and that's me to the right of her.  Maya is on the left sitting on the floor holding a kitten.  This was taken at the house in Zamboanaga, Philippines where my mom and her siblings grew up.  My Lolo has passed away, but my Lola still lives there.  She is 106!
So we did all the beach-y stuff.
Aaron, of course, went fishing with Lolo and did quite well.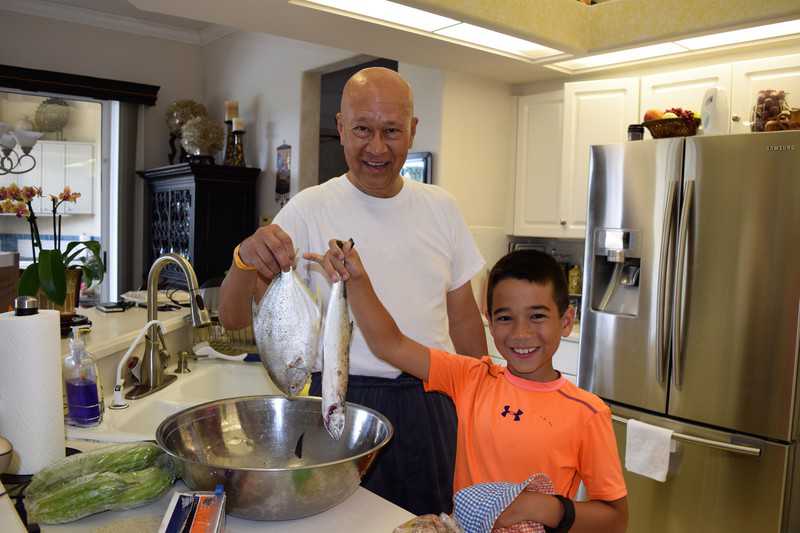 He also fished off the pier of the beach house every opportunity he got.  We were required to enjoy the bounties of his labor,  no matter the size or genus.
True to Filipino form, we did a lot of eating.
and hanging out
We had a great time!