We drove onward to Portland to spend some time with Benjy's side of the family.  Both Benjy's mom and dad grew up in Portland and they still have family in and around the area.  Because they live so far away from where Benjy and I grew up in Florida, it had been over a decade since Benjy had last seen many of them.
We visited some of Benjy's aunts on his dad's side.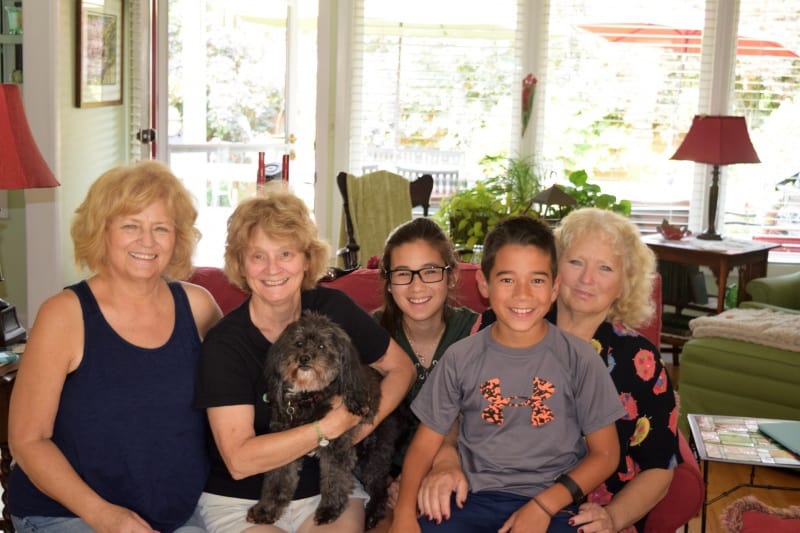 Here is Kathy, Linda and Annie (from the left).
It was fun to hear the stories of Benjy's dad growing up and about his paternal grandmother.
We also went by Benjy's maternal grandmother's house.  Benjy's grandmother passed many years ago, but he has fond memories of the summers he spent in this house.
And this is where our trip took a downward turn for a bit.  While we were in Portland, we were ROBBED!! As we were sleeping, someone got into our car and stole everything left in it: 3 large suitcases full of clothes, camping gear, documents, basically our whole life in the U.S. was in that car and all of it was GONE!  Benjy's backpack with every single piece of identification was taken, along with his laptop and ipad.
We were stunned.  We had already planned to camp in several national parks for the last 2 weeks of our trip.  Without our camping gear, it seemed that those plans were out the window.  Deflated, I told Benjy that I just wanted to call it quits and buy a ticket back to Hong Kong, where things like this rarely happen.  After thinking on it for a few moments, Benjy said, "The Woods aren't quitters!  We're going for it!"  I didn't know how we were going to do that without our camping gear, but I didn't have the heart to argue with him.
Then, someone posted a notice on an online neighborhood message board that 2 suitcases had been found on the side of the road.  They turned out to be our camping gear!  I suppose the thief had been on foot when he/she had stolen our stuff and he had only managed to drag everything a short distance before being forced to start ditching things not worthy of keeping.  Camping gear obviously wasn't a priority.  So, we got back our tents, gas stove and sleeping bags.
This find was encouraging so I headed out on a treasure hunt to see what else I could recover.  I could tell Benjy was skeptical, but he didn't try to stop me.  He didn't come with me either, though.
As I walked I searched the bushes, garbage cans and dumpsters along the way.  I scanned some tall bushes and I noticed something hanging off a branch.  I got closer and realized that it was the scarf I had been knitting!!!  Of all the things I was bummed about losing, my knitting was actually close to the top of the list because I had worked all summer on it! Now emboldened, I continued to comb the area.  A few steps later, I saw what looked like trash scattered on the ground.  It turned out to be some of the contents of Webley's back pack.  She had lost her jewelry, some quite precious to her, and lo and behold, there it was strewn on the sidewalk.  I guess the thief figured it was just junk costume jewelry.
I crouched down to look inside a thick hedge of bushes and I found a pink paper bag with our groceries.  Everything was still wrapped up in its packages and looked fine.  I suppose the crook wasn't hungry either.  I brought everything back to show Benjy and the kids what I had recovered.  After they saw all the loot, everyone joined me in search of more of our belongings.  We were especially interested in getting back at least one piece of Benjy's photo identification.  We didn't find anything else on that scavenger hunt, but a few days later someone else posted on the same online bulletin board that Benjy's military ID was found in some bushes.  It had become clear to us that obtaining a new passport for Benjy was going to be very difficult without a picture ID.  Now we had one!  We breathed a sigh of relief.
We never did get back our clothes (most of which were brand new because we did all of our clothes shopping while we were in the U.S.), nor did we recover any of our electronic devices.  All in all, I thought it could have been much worse.  At the very least, we could continue on with our camping plans.
We moved on from Portland to Tillamook to visit family on Benjy's mom's side.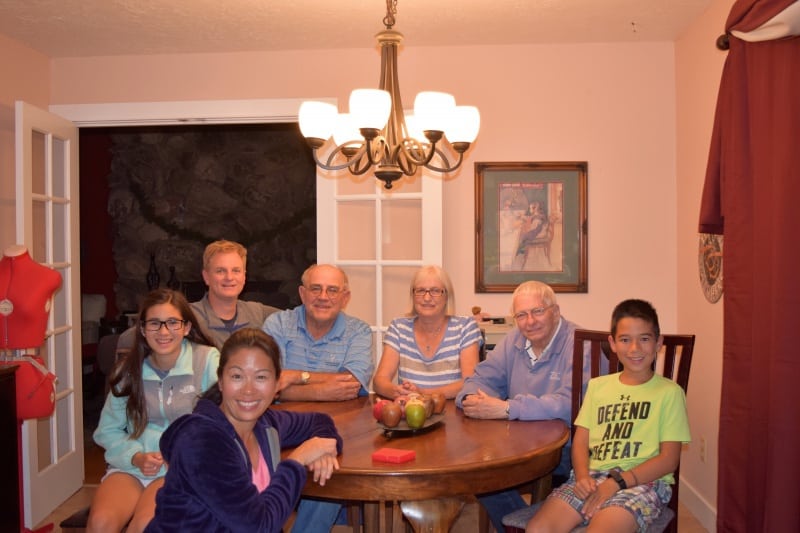 To Benjy's right is Gary, April (Benjy's mom's cousin) and Craig (Benjy's uncle).
We drove on to Corvallis, Oregon and met up with Benjy's first cousin, Tiffany.  Benjy's dad and Tiffany's dad were brothers.  I'm amazed at how much Tiffany and Benjy look alike.
They have the same eyes, eyebrows and nose.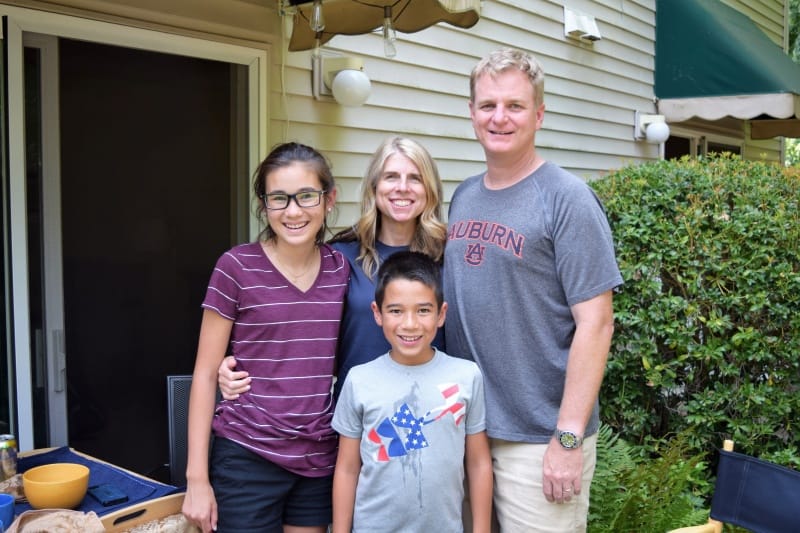 It was great reconnecting with the fam and we hope to see them again soon!!