Benjy was reading an article on treehouses around the world.  He learned that the world's highest treehouse is located in southeast Asia, in Laos, and is part of a conservation project called "The Gibbon Experience." Since we had never been to Laos, we decided that this would be the perfect destination for our next adventure.
The Gibbon Experience is a tourism-based conservation project located in Nam Kam National Park.  It's located deep in the heart of a jungle.  What makes the experience an even greater adventure is that the treehouses are accessible solely by zip lines.
But we had to get to Nam Kam National Park first, which was a 2-hour drive from the city of Huay Xia.  We started out on a paved road and, after about an hour, we stopped for a brief potty break.  We then drove off the pavement across a flowing river onto a muddy dirt road.  For the rest of the trip, we maneuvered up and down steep hills, twists and turns as we made our way into the rain forest.
The road trip ended at a small village.  We then hiked for another hour and finally arrived at base camp.
There were about 25 people in our group.  Benjy and I were probably old enough to be mom and dad to everyone else.  The Asia backpack contingency was a motley crew who didn't mind taking their vagabond party lifestyle to the jungle.
They brought with them 4 bottles of whiskey, 9 cans of beer, blaring  music and foul language.  What could possibly go wrong with booze, zip lines and houses suspended hundreds of feet above the ground?  If there was any chance of an unfortunate event, it seems the odds were stacked against this crowd.  Luckily, the backpackers were an insular group and wanted their own party treehouse.  We were happy to oblige and opted for the more family friendly version.
We were fitted with our harnesses.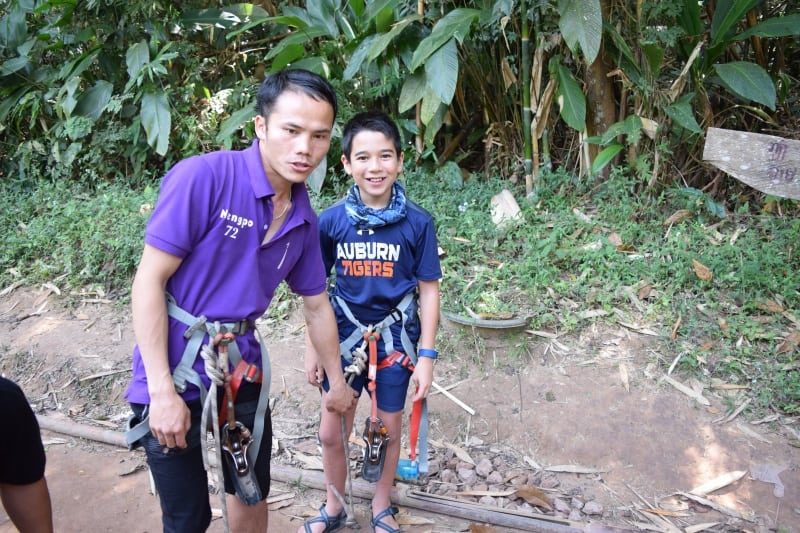 After a tutorial of how to hook ourselves to the zip lines, off we went.
And this was our home for 3 days, Treehouse #4.  It happened to be the newest treehouse.  I couldn't really tell how far up we were, but it seemed pretty high since I couldn't see the ground.
This was the "bathroom," which was on a floor lower than the main living space.  I was actually quite pleased with it, squatty potty notwithstanding.  There was a shower that you can't see in the picture, but no hot water.
Here is the view from the toilet.  Being hundreds of feet off the ground alleviates the need for privacy curtains.
We shared our abode with a really sweet couple, Sara and Tyge, who live in Shanghai.  They didn't want to be in the party treehouse either.
The place didn't have separate rooms, but we did have separate mosquito nets that served a dual purpose of keeping the tree rats from crawling on us as we slept. Eek!
Our first night, a fierce rainstorm started blowing around midnight.  The rain poured and there was thunder and lightening.  Benjy said he could feel the tree swaying in the wind.  Throughout the storm, we stayed dry and comfortable.  I wasn't the least bit afraid.
The next morning, we woke up in the clouds.  We could hear the gibbon monkeys singing, but unfortunately we couldn't see them through the mist.
Breakfast (along with all of our other meals) was zip-lined to us.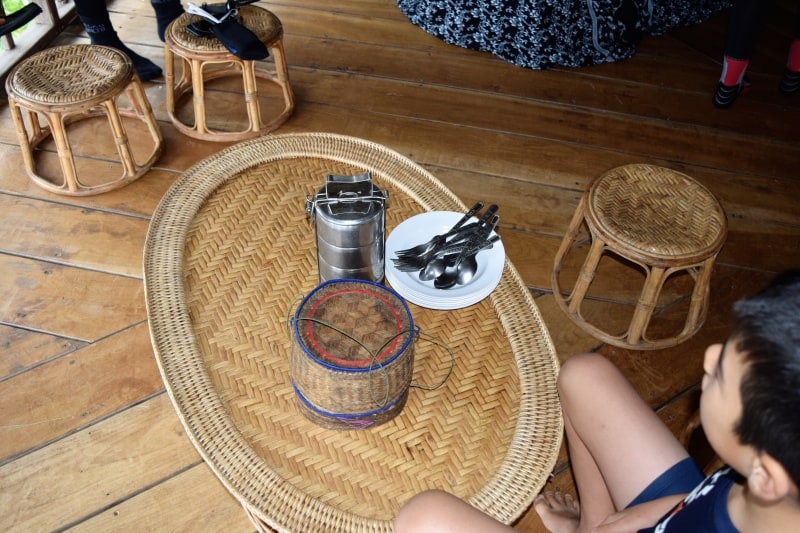 Meals were simple but filling and always came with steamed rice cooked and delivered in a nifty bamboo steamer.
We hiked and zip-lined all day.  The longest zip line was 500m (1,600 ft.).
We visited the other treehouses.
We had 2 really sweet guides, Pormua and Nengpo.  They took great care of us during our visit.
During one of our breaks, Aaron helped Nengpo practice his English.
He also fashioned some silly hats out of leaves and a twig.
What a unique and thrilling adventure!!