This summer Team Woods ventured outside of Asia and traveled Europe.  The launching pad for our European vacation was Paris, La Ville des Lumières, the City of Lights.  I have to admit that initially both Benjy and I were quite lukewarm about the idea of stopping in Paris.  I had visited the city in high school and Benjy travels there often for work.  Although we love cheese, baguettes and croissants just as much as the next guy, for some reason we both found the city unremarkable.  Additionally, the place is stunningly expensive, which if we're honest, is probably the primary reason for our ambivalence.
But Paris is one of those places that seems to be a "must-do" when it comes to traveling in Europe.  Benjy and I felt we'd be remiss not taking the kids there.  It didn't hurt that direct flights to Paris from Hong Kong are plentiful and cheap.  We had to start our European journey somewhere.
We took a redeye flight out of Hong Kong and landed just at daybreak.  We immediately boarded the subway which dropped us off under the heart of the city.  As we emerged from the substation both kids exclaimed, "Woooooah!!!!"  It was their first glimpse of Europe and they were instantly captivated by its Old World architecture and ambiance. Their initial reaction was visceral and it's one of my most favorite memories of our trip.
Now our current home, Hong Kong, is a beautiful city in its own way, filled with sleek skyscrapers and colorful neon lights.  It's ultramodern; it's glitzy; it's exciting, but it can also be over-stimulating and sometimes feels harsh or impersonal.
In contrast, Paris seemed…Je ne sais pas (I don't know)…warm, sophisticated, charming, dare I say…romantic (Cue the Parisian accordion music).  Our Airbnb flat was located in the Latin Quarter a short walk from Notre Dame.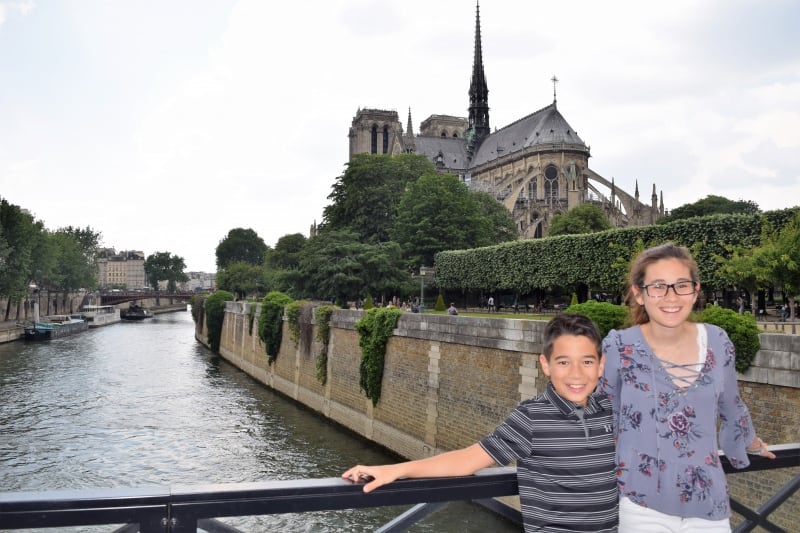 We didn't really have too much planned other than exploring the city on our own, so we hit the usually sites.
This one needs no introduction.
Obligatory smooch in the shadow of the Eiffel Tower
Arc de Triomphe
Avenue des Champs-Élysées.
For those of you who were in my high school French Class with Mrs. Richey, yes I did sing that annoyingly corny song we learned, "Au Champs-Élysées" as I moseyed down the avenue.
"Au soleil, sous la pluie, à midi ou á minuit
Il ya tout ce que vous voulez aux Champs-Élysées."
Sacré-Coeur
Despite our reservations about slogging through the Louvre we decided to take a guided tour of the high lights of the museum.
The tour was for 2 hours and it did seem absurd to think we could properly see such a revered gallery in that short amount of time.  But, again, we really weren't into art and it was more of a check-the-box kind of thing.  Yeah, I know it's very Chevy Chase-esque.  "Look kids! It's the Mona Lisa!"
We did see the usual suspects…
Venus de Milo
And of course the Mona Lisa
It turned out that our tour guide was absolutely brilliant.  She was so knowledgeable and really made learning about the artwork interesting.  She told us all the background history of the Mona Lisa and some clues as to the identity of the woman in the painting.  And since we pretty much left it up to her to give us the highlights, she then turned to the painting directly opposite the Mona Lisa.

The Wedding Feast at Cana is in the unenviable position of being the only other painting displayed in the same room as the Mona Lisa. Talk about always a bridesmaid, never the bride. It sits all but ignored as throngs of people vie to get a look at and take a selfie in front of the world's most famous (and in my opinion, somewhat over-rated) painting.
The Wedding Feast at Cana depicts Jesus' first miracle of turning water to wine.  Our tour guide spent a lot of time describing the painting's details and providing historical context of why the scene was portrayed the way it was.  It was so fascinating.  Webley said that this tour was one of her most favorites of our trip.  We all left with a new appreciation of art and art history.
Our stay in Paris wouldn't have been complete without enjoying the food, so here are the highlights:
Enormous meringue cookies
Éclairs
Fruit tartlets
And of course chocolate
And here's a DOD, but instead of a "Dog of the Day" pic, it's a "Duck of the Day."
This guy was sunning himself on the river right outside Notre Dame. I couldn't resist getting a shot of him.
So we all fell in love with Paris this summer.  C'est magnifique!