It's been a long while since my last post. The truth is that we really haven't done much traveling to report on since last summer, so I've had nothing to share. It has been, however, an "interesting" 7 months in Hong Kong. If you've been reading the news, then you're probably aware of the pro-democracy protests in the city. I have considered blogging about them, but several foreign journalists reporting on the protests have either had their visas revoked or denied re-entry into Hong Kong. It's not like my blog has a wide readership or anything, but I decided that discretion is the better part of valor and opted to stick to more benign subject matter. I'd rather leave Hong Kong on my own accord rather than be forced out. Talk about a chilling effect on free speech. <sigh>
At the end of December, Benjy had a layover in Singapore, so I decided to join him for a few days.
We've lived in Asia for 6 years now and this was my first visit to the city-state. Like Hong Kong, Singapore is a former British colony. Comparatively, however, it feels much, much more western. Although most native Singaporeans are of Chinese heritage, the people are an interesting mix of many Asian cultures such as Malaysian, Indonesian and Indian. The primary language spoken there is English; nevertheless, you'll hear people conversing in many different languages as you walk along the street.
Before arriving in Singapore, I asked a friend who is native Singaporean what I should do while I was there. Her response was, "eat, eat, eat." So, eat we did. Sometime in the past, government authorities outlawed street food vending and relocated them to hawker stalls.
I suppose it had to do with hygiene and I have to admit the hawker stalls are much more hygienic than the street food venders I've visited in places like Thailand, Vietnam and mainland China. Still, in my opinion, the stalls lacked the same character. But what they lacked in personality, they certainly made up for in selection and tastiness. The hawker center pictured above is one of several scattered around the city, within which there were hundreds of different stalls with a wide variety of food.
Whenever Benjy is in town, his mainstay is an egg paratha.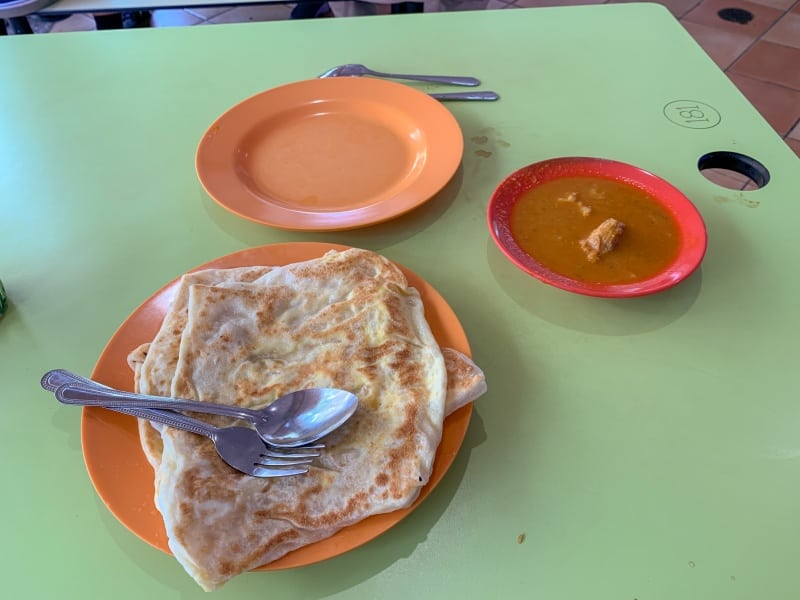 It's flaky flatbread cooked with a scrambled egg and served with curry dipping sauce. The cost of it is only about 1 USD, so it's quite economical.
At this one particular complex, there was a stall with a long queue.
Benjy said that whenever he's here, that stall always has a long line, but he had never given it a try. I said what the heck and grabbed a bowl for myself.
It was a bowl of noodle soup together with a variety of dumpling-like morsels. Other than the noodles, I had no idea what I was eating, but it tasted good and I didn't get sick, so I slurped it down.
One of Singapore's quintessential dishes is fish head curry. I felt like I couldn't leave without trying it.
To those of you who don't like to eat your fish with its head still attached, I know this dish looks particularly unappetizing being that the body is conspicuously missing. Actually, in my opinion, the head is the best part of the fish. There's a lot of tasty meat in the cheeks and the back of the fish head; you just have to give it chance. And then there are the controversial fish eyeballs… but I'll just stop right there.
Anyway, at this establishment, we ate off of banana leaves instead of plates.
I wasn't exactly sure what the condiments were included with our meal, but again they were appetizing so both Benjy and I pressed on.
I was only in town for a couple of days, so we tried to see as much as we could, namely the sights made famous by the movie, "Crazy Rich Asians."
There was the well-known Gardens by the Bay.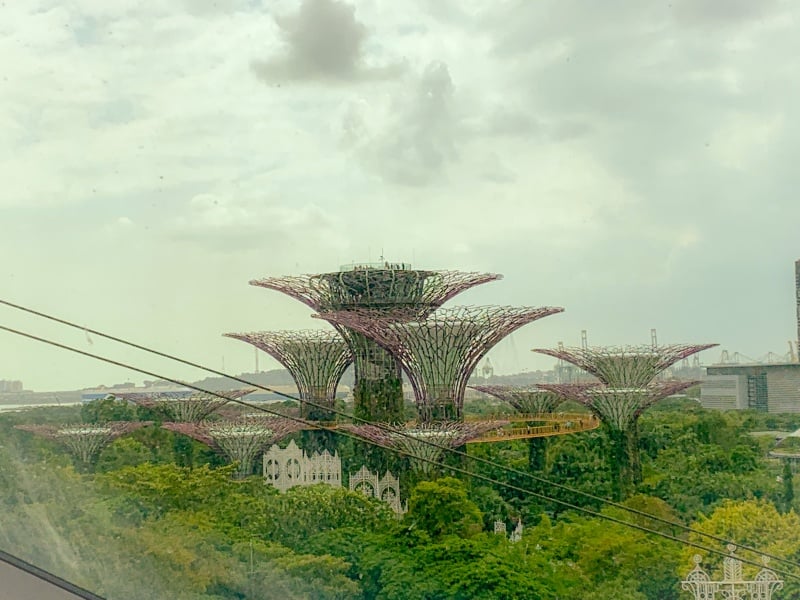 Which included the flower dome and cloud forest. They were essentially enormous greenhouses. The best part was that both exhibits were air-conditioned!
There were stunning flowers and plants.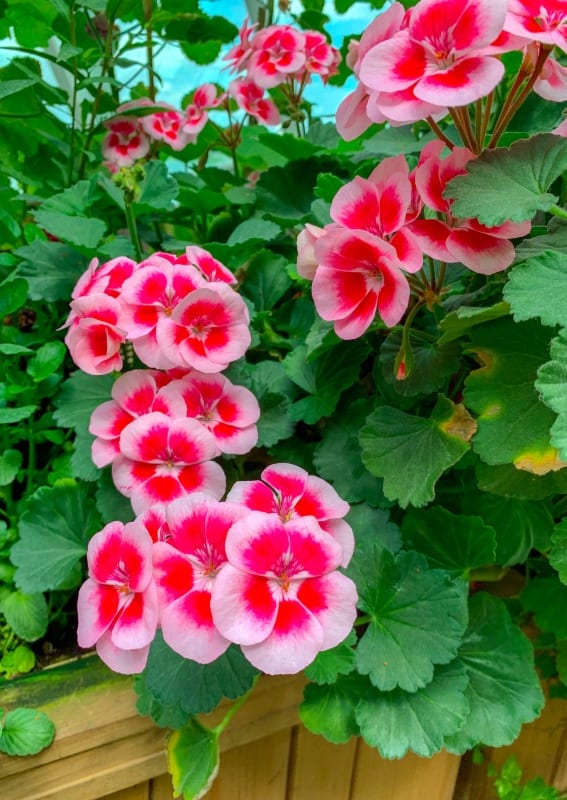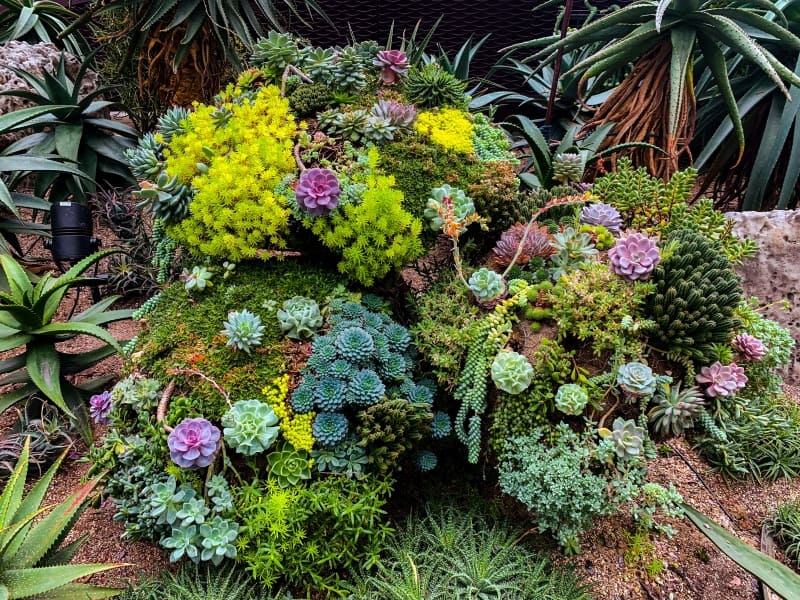 There was the church where Colin and Araminta married.
…and the Marina Bay Sands Hotel, the most expensive hotels ever built.
This was as close as we got to that place.
It was a fun getaway.